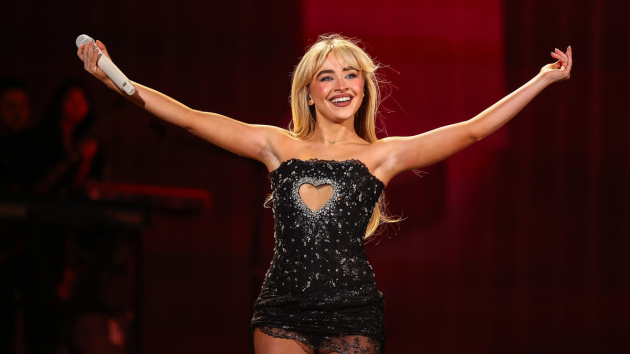 Breaking News: Sabrina Carpenter, the singer and actress who recently spooked us with her horror-themed "Feather" music video on Halloween, has just dropped the holiday bombshell of the century! Drumroll, please… She's releasing a brand new EP titled "Fruitcake"! Yes, you heard that right, "Fruitcake"! Move over, Mariah Carey, there's a new holiday sensation in town, and she's armed with fruitcakes!
At the tender age of 24, Sabrina is embracing her inner jolly elf with this six-song EP that's destined to become a holiday classic. The EP includes the already-released hit, "A Nonsense Christmas." So get ready to rock around the fruitcake this holiday season.
Sabrina couldn't contain her excitement and took to Instagram to spill the fruit-filled beans. She shared the EP's cover art and exclaimed, "made something special for you guys for the holidays🤍." You can practically taste the festive flavors of this EP just by looking at that cover!
In a top-secret newsletter email, she further revealed, "I'm so excited to share that my new holiday EP 'Fruitcake' will be coming out next Friday, November 17th!!" November 17th, mark your calendars! It's officially Fruitcake Friday! She wanted her fans to be the first to lay eyes on the album artwork and the official "Fruitcake" track list. Who needs turkey when you have Sabrina's musical feast to look forward to?
But the excitement doesn't stop there! This news dropped just a few weeks after Sabrina teased that she was in the studio "defrosting." Now, we're not sure if that means she was literally frozen in an ice block or if it's just a clever way of saying she was recording music, but either way, it's a certified banger of a clue.
In a move that could rival Mariah's legendary holiday hits, Sabrina is packing her bags and jetting off to South America for a string of tour dates with none other than Taylor Swift! It's all part of The Eras Tour, and the festivities kick off TOMORROW (November 9) in Argentina for a three-night extravaganza. Then, it's off to Brazil, where they'll be spreading holiday cheer with three shows in Rio De Janeiro and three more in Sao Paulo. Talk about a holiday season that's sweeter than a fruitcake!
Sabrina Carpenter is about to take the holiday music scene by storm with "Fruitcake," and we couldn't be more excited. Get ready to dance, sing, and maybe even nibble on some fruitcake as you ring in the most wonderful time of the year! 🎄