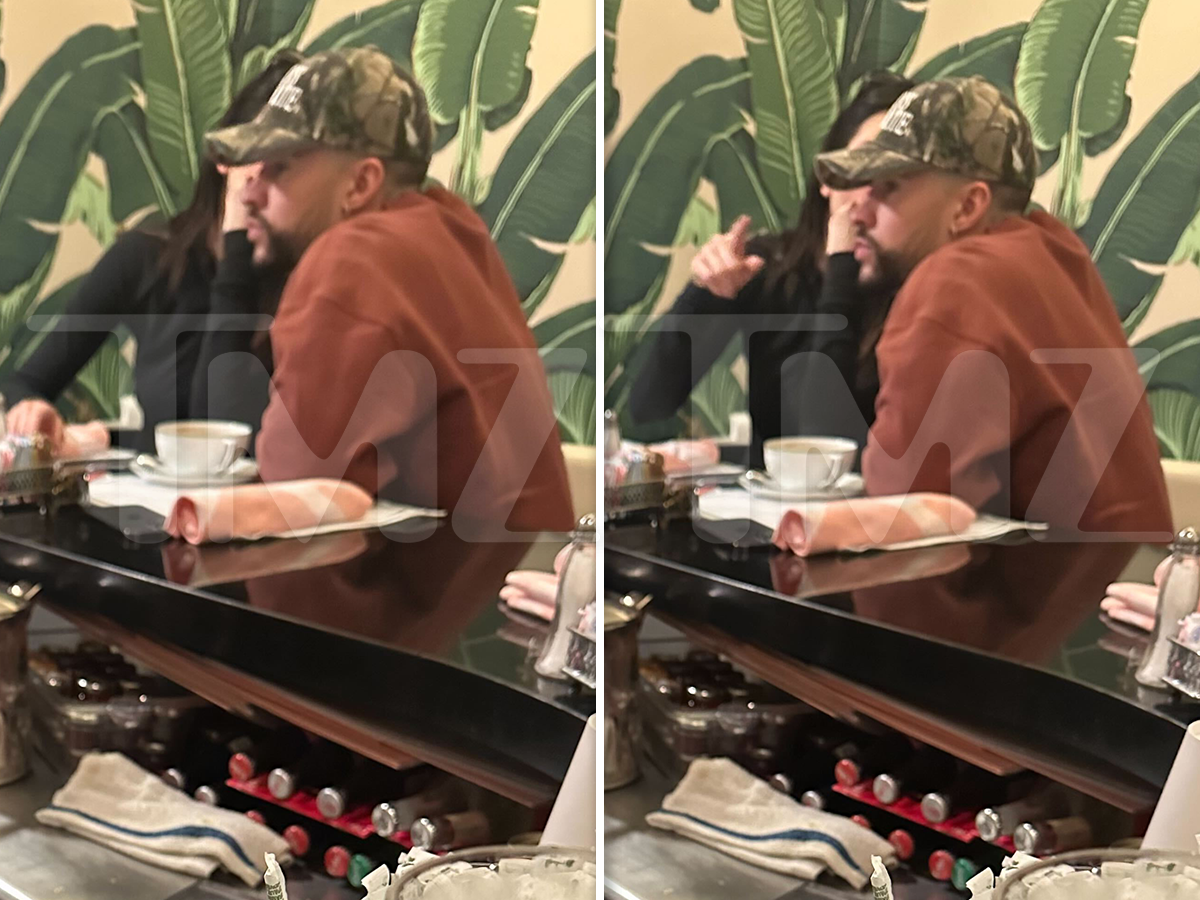 Kendall Jenner and Bad Bunny, the dynamic duo of unexpected pairings, embarked on a breakfast adventure that will go down in the annals of celebrity history as the quirkiest morning meal ever. You see, after a wild shindig at the swanky Chateau Marmont in the City of Angels, our intrepid lovebirds were caught munching away at a restaurant near the Beverly Hills Hotel the very next morning.
Picture this: Kendall, a sprightly 27-year-old, and Bad Bunny, a ripe 29, cozied up at the counter, their culinary conquest involving pancakes and eggs of epic proportions. Witnesses, who were probably pinching themselves to make sure they weren't hallucinating, spilled the beans to TMZ. They claimed that these two star-crossed lovers, who've been dating since the dawn of 2023 (literally), were "being cute and affectionate" as they navigated the treacherous waters of breakfast romance.
Now, here comes the plot twist! A woman at the restaurant had the audacity to ask Kendall for a selfie. But, lo and behold, the supermodel with a pancake in one hand and an egg in the other, gracefully declined. Why, you ask? Apparently, it's because she was right in the middle of an Olympic-level eating marathon. No one can pose for a pic when they're competing for a gold medal in pancake devouring, right? Safety first,!
And let's not forget the real hero of this breakfast tale: Kendall's trusty bodyguard. He loyally stood guard (pun intended) near the lovebirds, ensuring that no rogue maple syrup bottles or butter pats dared approach their table.
As if that wasn't enough, Kendall had recently thrown a Halloween bash that was star-studded enough to rival a galaxy. The guest list read like a who's who of Hollywood: Billie Eilish, Channing Tatum, Zoe Kravitz, Charli D'Amelio, Machine Gun Kelly, Megan Fox, and, of course, her Puerto Rican boyfriend, Bad Bunny. Kendall herself decided to channel her inner Marilyn Monroe, just like her sis Kim did at the Met Gala in 2022. She even gave us a little history lesson on Instagram, captioning her look with a cheeky "happy birthday mister president."
Kendall and Bad Bunny aren't just your run-of-the-mill power couple. They've become the hottest sensation in Tinseltown over the past few months. Their love story started as mere whispers in February, and since then, they've been treating us to delightful public appearances like they're starring in their own rom-com. Think Lakers games in May, romantic getaways to Idaho in July, and jamming out at the Drake concert in August. Yet, despite the speculation and the paparazzi's prying eyes, these two have locked their lips on the matter of their relationship status. Kendall even decided to dodge questions about her bunny-loving beau during an interview with Harper's Bazaar, offering a cryptic explanation. "I try to find the balance of keeping things private and keeping things sacred," she said. "I'll go out of my way to do things as privately as possible because I just think that that's the healthier way of dealing with relationships anyway."
The plot thickens. Kendall hopped on the Bad Bunny bandwagon after parting ways with Devin Booker. Her roller-coaster of an on-again, off-again romance with the basketball player lasted for over two years before calling it quits for good at the close of 2022. Sources spilled the beans (again) that Kendall and Devin's "incredibly busy schedules" were one of the culprits behind their separation. Bon appétit!