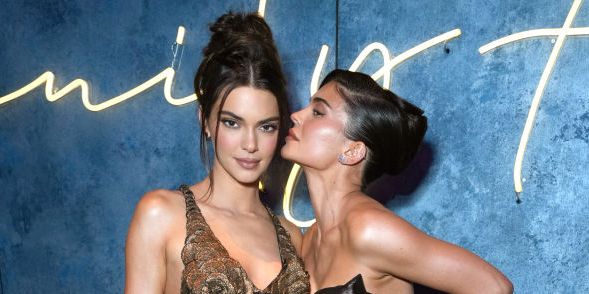 Kendall Jenner's birthday extravaganza is in full swing, and her mischievous younger sister, Kylie Jenner, is here to stir the pot in the most hilarious way possible!
So, Kendall, the supermodel extraordinaire, just hit the big 2-8 on November 3, and in true sibling fashion, Kylie decided to commemorate the occasion with a card that can only be described as "Kylie-special."
Behold the photographic evidence! Kendall shared a snap of Kylie's gift on her Instagram Story, and what a gift it was. A stunning bouquet of sunflowers arrived, and you know it's going to be a wild ride when sunflowers are involved.
Now, let's talk about that card. Kylie, the beauty mogul herself, took pen to paper and, with the utmost seriousness, penned the following words: "Happy birthday sister 30 years old!!!! Times flies. Love you, Kylie."
But wait, Kendall wasn't going to let Kylie have all the fun. In her Instagram Story post, Kendall responded with a classic "lmao" (laughing my abs off, anyone?) and decided to emphasize her feelings with a well-placed middle finger emoji. Sisterly love at its finest!
And that's not all! Kylie, in between her busy schedule of running an empire, took a moment to share a touching birthday tribute on her Instagram Story. She shared a snapshot of Kendall surrounded by not one, not two, but four birthday cakes. Yes, four! Because when you're a Kardashian-Jenner, one cake just won't cut it. Kylie's heartfelt message: "Happy birthday @kendalljenner !!!"
In the world of the Jenner sisters, birthdays are all about sunflowers, cheeky cards, and enough birthday cakes to keep a small army in a sugar coma. Who wouldn't want to be a part of this wild and wacky family celebration? Cheers to Kendall and Kylie for keeping the birthday shenanigans rolling! 🌻🎂🖕😂