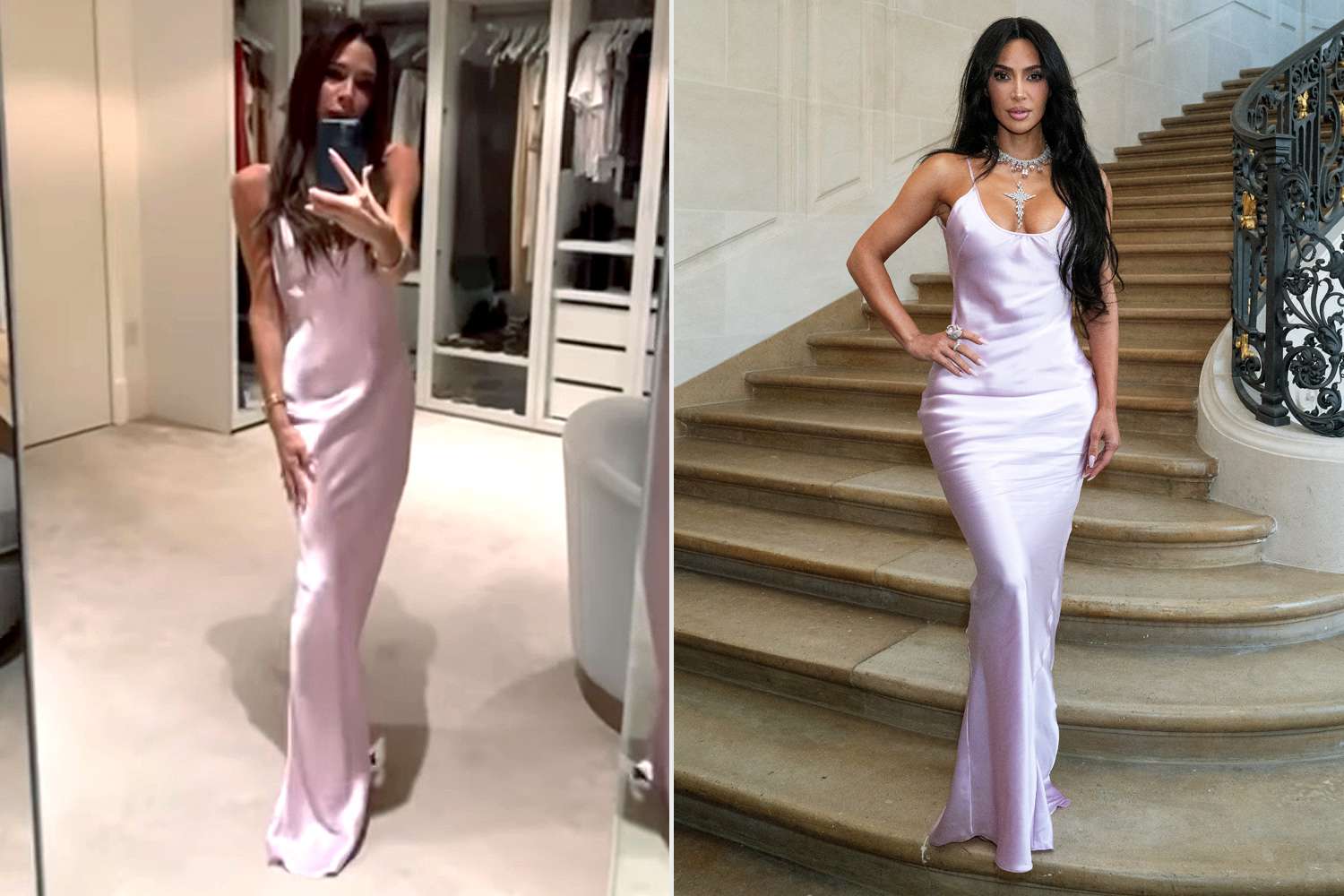 Victoria Beckham was a vision of absolute fabulousness as she slinked into the satin gown of dreams that she personally crafted for none other than the one and only Kim Kardashian.
This 49-year-old fashion maven didn't just casually flaunt her creation; oh no, she treated her loyal Instagram following to a scorching video on a regular old Monday, like it's no big deal. But let me tell you, it was a big deal!
The gown, let's talk about that masterpiece. Victoria, the former Spice Girl, whipped it up with love for Kim, who at the time was a sprightly 43. She had the honor of strutting her stuff on the runway during Victoria's fashion extravaganza at Paris Fashion Week in September.
As she stood there, talking to her own reflection in the mirror, Victoria captioned her video with words that said, "I designed this dress just for @kimkardashian to rock at my #VBSS24 show in Paris. I just had to have it myself, you know! The shape is simple, flattering, and it comes in the most fabulous baby pink color!! Get in line to be the first to snag this limited-edition gem!! Kisses xx." She said it with that British charm.
Now, about this dress! It's like the lovechild of elegance and versatility. It's got a neckline that scoops like you're scooping up the last piece of chocolate cake. And, of course, it showcased Victoria's own enviable figure, because why not?
The fun doesn't stop there! Victoria, the Instagram queen that she is, didn't just stop at one post. She added a snippet of her wearing the dress to her stories because the world needed more of that fabulousness. Oh, and there was a picture of Kim Kardashian looking absolutely stunning at that catwalk show in the city of lights. She simply captioned it "kisses @kimkardashian xx." It's almost like she's saying, "Darling, you look stunning, and I'm just here sprinkling kisses all over this moment!"
And let's not forget Kim's bling! She was decked out in layers of diamond jewelry, because nothing says 'I'm here to slay' quite like that. Can you believe it's been seven years since she was caught in that whole "robbed-at-gunpoint" thing at a fashion event? Time flies when you're being fabulous, doesn't it?