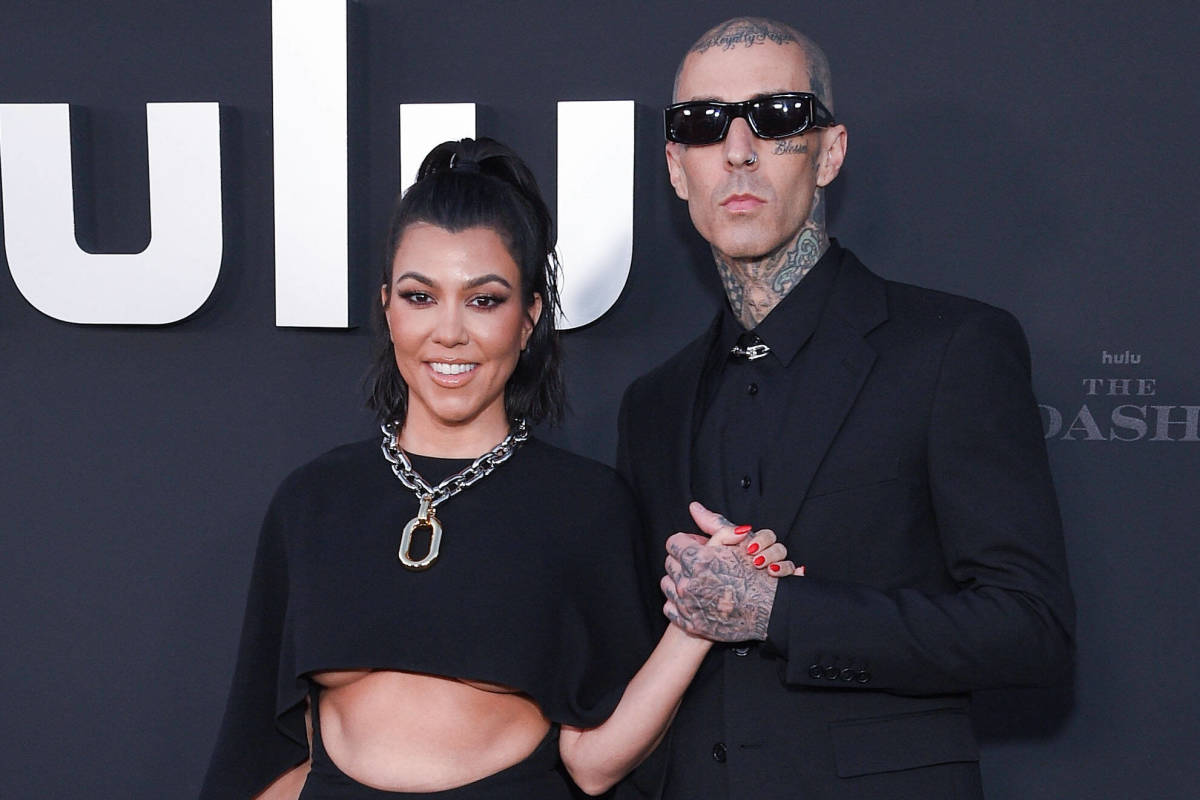 Travis Barker just dropped a bombshell the size of a baby rhinoceros. Well, not literally, but he did spill the beans on his wife Kourtney Kardashian's pregnancy, and boy, was it a revelation.
The Blink-182 drummer, who usually keeps things under wraps, couldn't contain his excitement while appearing on the One Life One Chance with Toby Morse podcast. With all the subtlety of a sledgehammer, he spilled the beans about the due date of their impending bundle of joy. He casually mentioned, "It's either Halloween or like the first week of November," as if he's got a psychic connection with the stork.
He even unveiled the name of their soon-to-arrive mini-me, and it's apparently going to be Rocky. Yes, you heard it right, Rocky. Maybe Barker's still pulling our legs, but the evidence is mounting faster than a pile of dirty laundry.
When probed about the possibility of another Transplants album, Barker got into the nitty-gritty details. He explained that they were all set to rock a benefit concert, but something, or rather someone, got in the way. He said, "There's a benefit for Hawaii that we were going to do, but it's the week that Rocky's due." So, unless Hawaii's suddenly turned into a maternity ward, we're placing our bets on Rocky.
And if you think he's just playing a grand prank, well, you might be onto something. In a previous interview on Complex's Goat Talk, Barker had tossed another name into the baby name ring. "I like Rocky Thirteen. That's this name that's been going through my head lately," he mused. His reasoning? "Rocky George played guitar for Suicidal Tendencies," he said, "And 13 is just the greatest number of all time." Clearly, Barker's baby name inspiration is as wild and unpredictable as a rock 'n' roll concert.
Kourtney is already the mom of Penelope Scotland, Reign Aston, and Mason Dash with ex Scott Disick. Meanwhile, Travis shares Landon Barker and stepdaughter Atiana De La Hoya with ex-wife Shanna Moakler. With all these kids in the mix, we're starting to wonder if they're running out of names that aren't Rocky or Thirteen.
This power couple has been super candid about their pregnancy journey, even admitting last year that they gave up on IVF due to the toll it took on Kourtney's body. Kourtney's philosophy was simply, "If a baby is meant to be, it will be part of God's plan." Fast forward a few months, and voilà, a baby bombshell!
Just a couple of months back, Kardashian had a little medical hiccup that landed her in the hospital. But fret not, because she assured everyone that her incredible doctors saved the day. She also gave a shoutout to her knight in shining tattoos, Travis Barker, who dashed to her side from a tour to be her rock. And of course, she thanked her mom for holding her hand through the ordeal. Because in the Kardashian-Barker household, even emergencies come with a touch of glam.