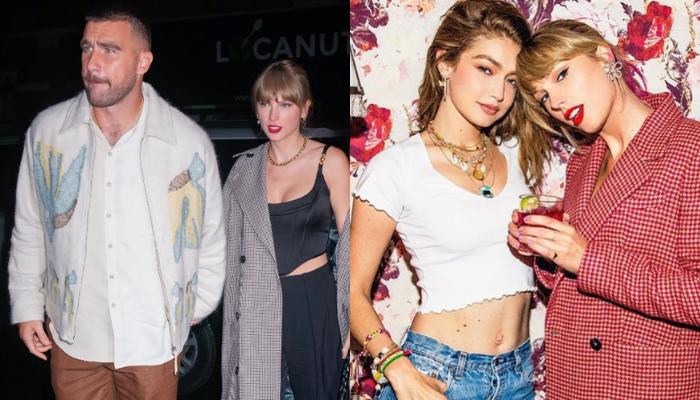 Breaking News: Gigi Hadid Declares Official Position on Taylor Swift's Love Fest with Travis Kelce, and It's Hilariously Epic!
In a plot twist juicier than a watermelon on a summer day, Gigi Hadid has finally spilled the beans on Taylor Swift's sizzling romance with Travis Kelce. Forget the serious news outlets; we've got the inside scoop covered with a sprinkle of Gigi magic.
Rumor has it that Gigi's been MIA from Travis' games because she's not exactly doing cartwheels over Taylor's lovey-dovey tactics. An alleged insider spilled the beans to Us Weekly, claiming Gigi thinks Taylor is channeling Cupid on fast-forward, and it's all a bit too much, too soon.
But fear not, for Gigi Hadid is not one to let the rumor mill churn without throwing in her two cents. She took to Instagram, the modern-day battlefield of celebrity clapbacks, to set the record straight. Picture Gigi, sipping on her favorite tea, with a mischievous glint in her eye.
In a post fashionably late to the party (because who follows timelines anyway?), Gigi quipped, "I'm a couple days late to this tag… but didn't the press try this last week w Selena? Let it be… we are all over the moon for our girl. Period. ❤️‍🔥." Translation: Gigi's got better things to do than entertain relationship gossip, and she's firmly on Team Taylor.
Sure, Gigi might have skipped a few of Travis' games, but who needs a front-row seat when you've got a VIP pass to the Taylor Swift Dinner Extravaganza? Just last week, Gigi dined with Taylor and the squad, proving that she's not missing out on the real MVP moments.
Gigi Hadid has spoken, and the verdict is in: let the lovebirds love, and let the rumor mill find another target. In the grand scheme of things, it's all just one giant, glittery heart emoji for Taylor Swift. Keep slaying, Gigi!