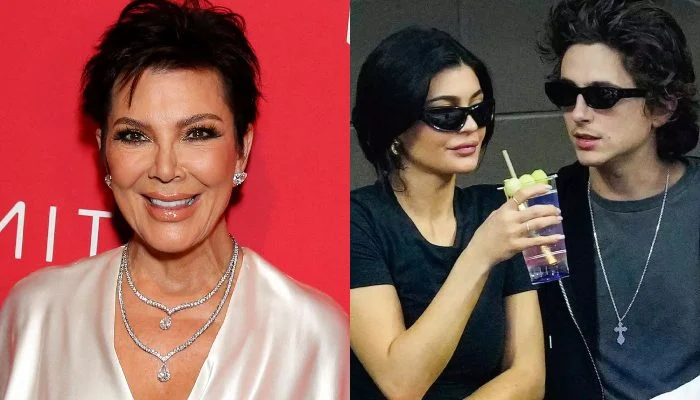 Timothée Chalamet graced the hallowed halls of Saturday Night Live once again, and his biggest cheerleader just happened to be none other than the world's most famous momager, Kris Jenner! She made sure the whole world knew it by taking to Instagram Stories on a fine Saturday, November 11th.
In the most delightful and humorous promo for the show, there's Timothée, looking dapper as ever, and he goes, "Hi there, I'm Timothée Chalamet, and I'm your gracious host for SNL this week, accompanied by the Boy Genius!" Can we just say he's got that charismatic charm oozing out? Kris Jenner was quick to hop on the bandwagon, captioning the video with tags for Timothée, SNL, and Boy Genius. Move over, fan club presidents, Kris just took the title!
Now, let's talk about Timmy's romantic escapades, shall we? Our Dune superstar, a youthful 27, and Kris's fabulous offspring, Kylie Jenner, age 26, first appeared on our relationship radar back in April 2023. They officially sealed the deal in September with a lovey-dovey appearance at a Beyonce concert in the City of Angels. As they say, if you're gonna make it official, do it with Queen Bey!
But, hold your horses because this couple is as elusive as Bigfoot in a blizzard. They've kept their relationship on the down-low, and Timothée gave us a glimpse into their world by dropping some South Park wisdom. When GQ asked about Kylie, he cheekily mentioned the "Worldwide Privacy Tour" episode. I mean, who wouldn't want to go on that tour, right? In his own words, "Sometimes, people are going to be hella confused when you say you're trying to live a private life." Can't argue with that logic, Timmy!
But here's where things get real. Our boy Timothée knows that life ain't all red carpets and awards ceremonies. He shared some deep insights, saying, "You've got to have the experiences in your personal life that are usable to you. You've got to have real experiences. Human experiences. You've got to fall in love, you've got to be bored." Preach, Timothée, preach! You're not a real Hollywood heartthrob until you've had your heart skip a beat or two.
Now, with Kris Jenner throwing her weight behind her daughter's dashing beau, it's clear that things have kicked up a notch between these two lovebirds. Earlier this year, sources spilled the tea that Kylie digs Timothée because it's a different kind of vibe. They're keeping things casual for now, but Kylie is having a blast with Timmy, and it's a refreshing change of pace for her. You go, girl!