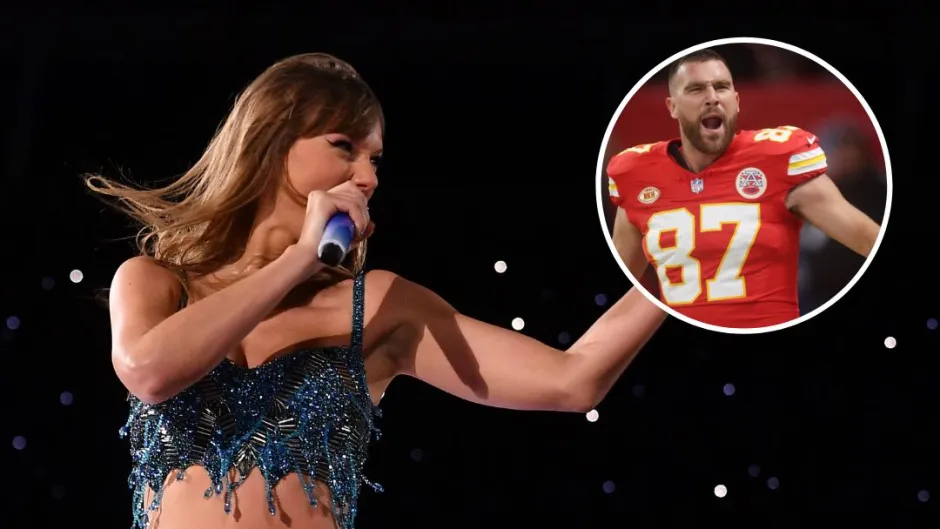 Travis Kelce had a jaw-dropping moment that would make any tight end jealous! The 34-year-old Kansas City Chiefs player, who's usually catching passes, found himself catching feelings at Taylor Swift's Eras Tour stop in Buenos Aires' Estadio River Plate in Argentina on a fateful Saturday (November 11). The pop sensation decided to spice things up by tweaking the lyrics to her hit song, "Karma."
As Taylor Swift belted out, "Karma is the guy on the Chiefs coming straight home to me," Travis couldn't contain his surprise. With a grin that stretched wider than the football field, he was caught on video standing in the VIP tent, rubbing shoulders with Taylor's dad, Scott Kingsley Swift.
Swift's dad, in the throes of Taylor-induced excitement, couldn't resist the urge to celebrate this poppy twist. He enthusiastically cheered, giving Travis a playful tap on the shoulder and raising his arms in jubilation, as if he'd just won the Super Bowl. It was quite the touchdown dance-off!
But Travis wasn't just a spectator; he was ready to join in on the fun. As fans erupted in cheers, he threw his hands over his head in sheer disbelief, probably contemplating how surreal his night had become. Then, in a move that would make even the most graceful ballerinas jealous, he raised his arms and started grooving to the beat. It was as if he'd just entered the end zone of a Taylor Swift-themed dance party!
And to top it all off, Taylor Swift herself acknowledged Travis from the stage. With a swoon-worthy look, she gazed toward him, blowing a kiss, and waving a sweet hello at the end of the song. We can only imagine the locker room chatter the next day: "Travis Kelce, the guy who danced his way into Taylor Swift's heart, or at least her concert!" 🕺💃🎶💘