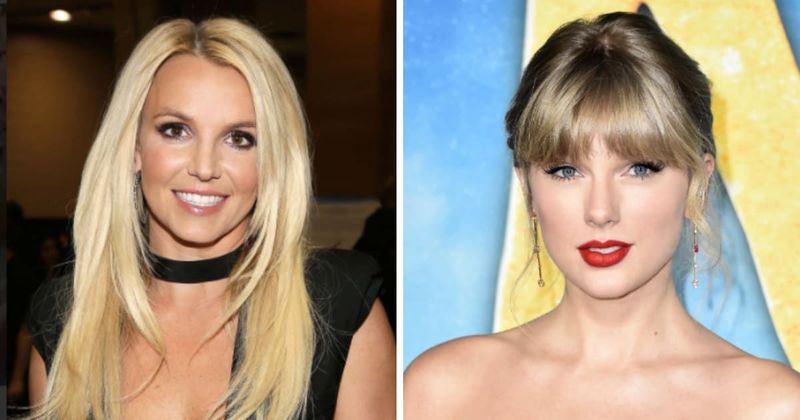 Britney Spears just spilled the beans in the funniest way about her epic encounter with none other than Taylor Swift!
So, picture this: It's the ancient year of 2003, and Britney, the Queen of Pop with a capital P, is doing her Oops Tour thing. Out of the blue, there's a knock at her door, and she's all like, "Who's there?!"
Well, it turns out it's her buddy, who happens to be the assistant to her manager (or manager-in-training, as we like to call it). He's got a surprise in tow – a young, fresh-faced Taylor Swift who's itching to sing her heart out for Britney.
Britney, being the pop royalty she is, says, "Sure, bring her in!"
And in walks Taylor, strumming a guitar and serenading Britney like a rockstar! Britney's reaction? Cue the "wow wow, she's unbelievable!" Yep, she's totally fan-girling over Swift's talent, and who can blame her? We'd be fan-girling too!
To make this historic moment extra memorable, they snap a quick pic together. Little did they know, that young Taylor would go on to become the pop sensation of our generation! She's out there filling stadiums, and Britney's got a front-row seat to the Taylor Swift show. Oh, and when it comes to choosing between Taylor's music videos and movies, Britney's all in for Team Taylor. No Oscars, just Swift vibes!
Britney's got herself a major girl crush on Taylor Swift, and who wouldn't? These two queens of pop are just pure hilarity and talent wrapped up in a sparkly, star-studded package. Keep on shining, you fabulous ladies! 👑🎤🌟 #PopRoyalty #BritneyAndTaylor #OopsMeetsSwiftie