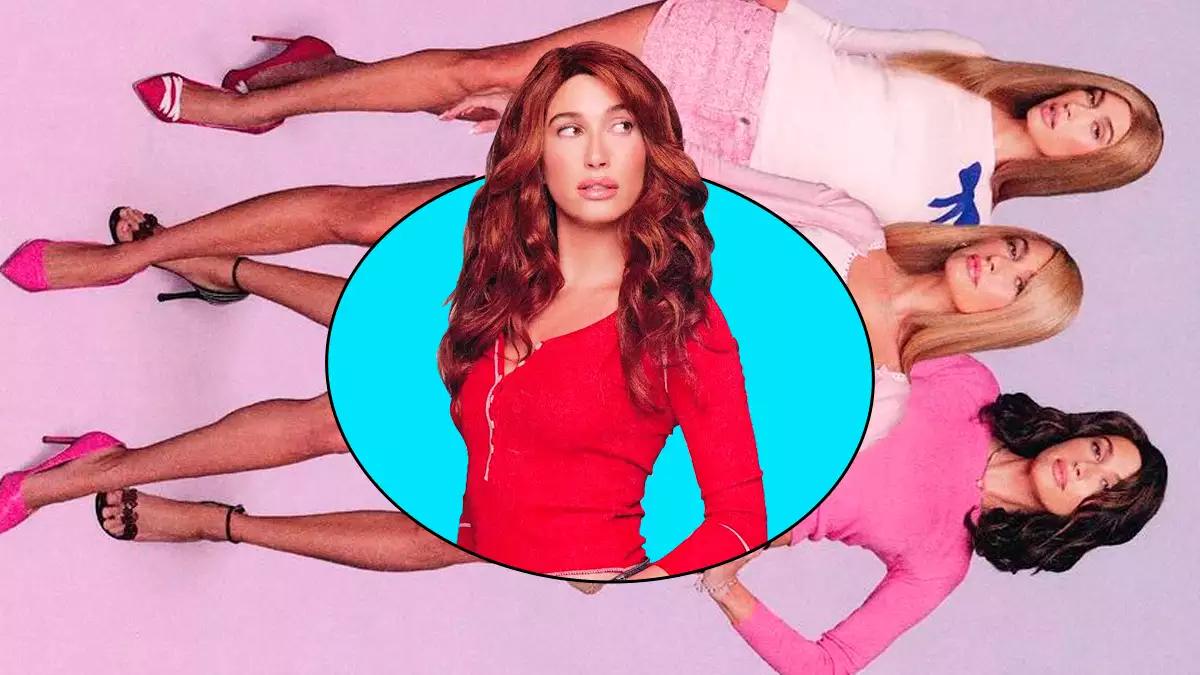 On the spookiest night of the year, we say goodbye to black and embrace pink! Hailey Bieber took Halloween by storm, paying tribute to the iconic movie, Mean Girls, in a way that left us all saying, "You go, Glen Coco!" With more costume changes than a Broadway production, the 26-year-old model embarked on a Halloween adventure that had us giggling 'til our candy corn flew out of our mouths.
Not content with just one role, Hailey decided to channel her inner Lindsay Lohan as Cady Heron, but she didn't stop there! Nope, she went above and beyond, managing to squeeze herself into the roles of all three Plastics. Yes, you read that right! Hailey pulled a costume hat-trick, becoming Lindsay, Rachel McAdams, Lacey Chabert, and Amanda Seyfried all at once. Can you say "talented"?
But the hilarity didn't end there. Hailey took a page out of the infamous Burn Book, and instead of Regina George's face, she pasted her own with some cheeky doodles to boot. Not to mention, she boldly rewrote the star-studded cast above the title as "Hailey Bieber and Hailey Bieber." Talk about giving yourself top billing!
The Burn Book page wasn't safe either, as Hailey replaced Regina George with her name. And what's a Mean Girls tribute without the iconic line, "She doesn't even go here!" in the caption? You've got to hand it to her; she nailed it!
And if you thought Hailey's Mean Girls dedication was the only hilarious act in her Halloween repertoire, you're in for a treat. She also paid homage to the comedy classic, Scary Movie, by transforming into Carmen Electra's Drew from the film. She recreated some of the most iconic scenes with Ghostface, and the results were to die for!
Earlier in October, Hailey and her pop sensation hubby, Justin Bieber, threw a "Spooky Soiree." Hailey went full vampire mode with a sultry lacey red corset, complete with fake blood on her lips. Someone call Van Helsing because this was one vampire hottie we couldn't resist!
And let's not forget about their dynamic duo costumes. Hailey and Justin rocked the Flintstones look, with Hailey as the gorgeous Wilma and Justin as the always-yabba-dabba-doing Fred. But for a Halloween date, they decided to go their separate ways (not relationship-wise, just costume-wise). Justin cozied up in a reindeer onesie, while Hailey transformed into a cat(ish) queen with her black attire and head scarf. Meow!
Hailey Bieber's Halloween costume game was so strong that even the Sanderson sisters would be green with envy. She effortlessly nailed every costume change, and her playful spirit had us cackling with delight. Can't wait to see what hilarity she brings to Halloween next year!