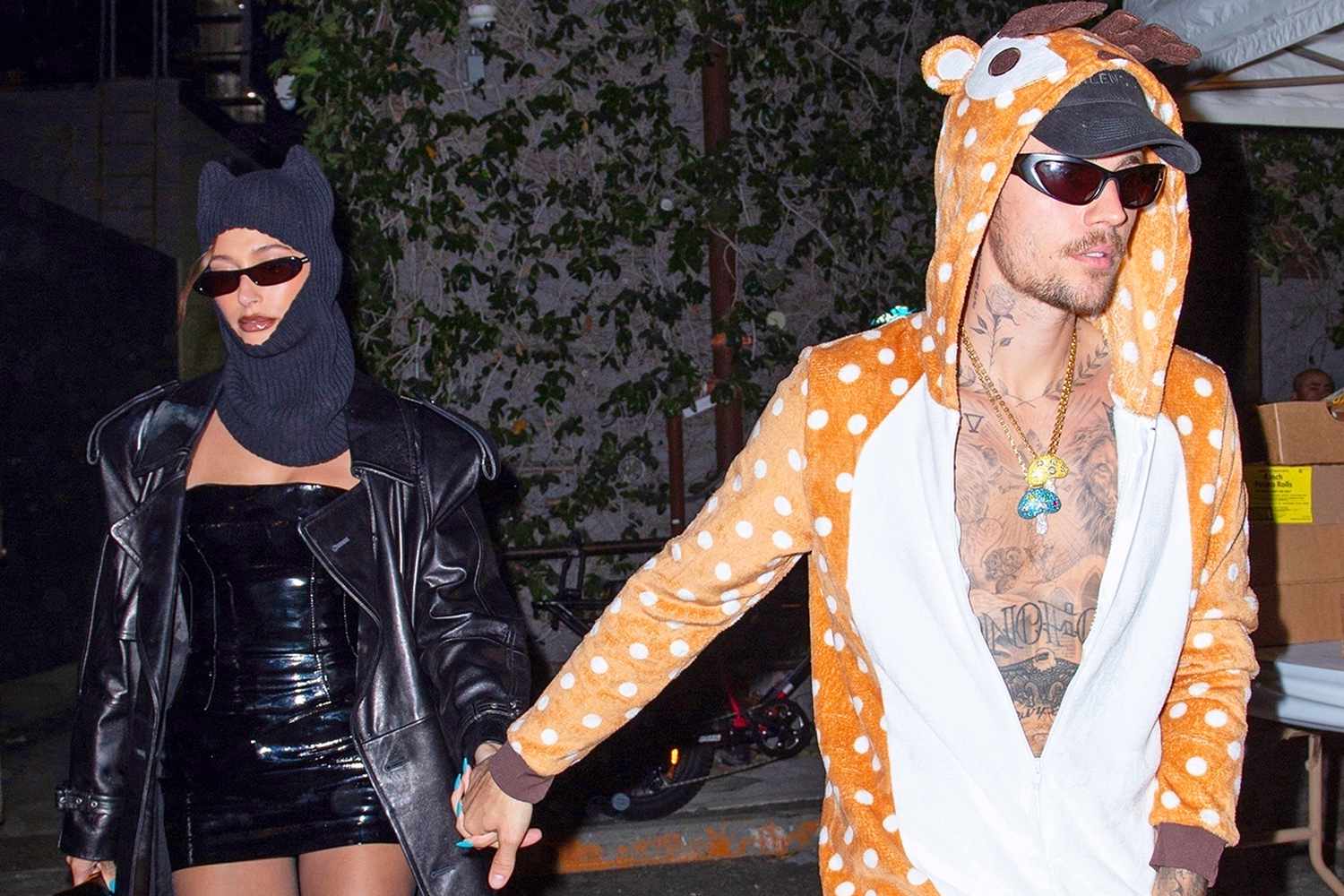 Justin and Hailey Bieber are absolutely crushing it in the Halloween department this year, and they're giving the rest of us mere mortals a run for our candy! These two lovebirds have been on a Spooky Season spree, and it's safe to say they've been making more outfit changes than a diva at a wardrobe malfunction-prone concert.
Our boy Justin, the 29-year-old "Peaches" hitmaker, got the party started without his 26-year-old wifey, Hailey, at the Casamigos shindig. He strolled in looking like he was ready to conquer the Amazon rainforest, complete with goggles and everything. I mean, who doesn't accessorize with goggles at a Halloween party? Classic Justin!
But fear not, Hailey didn't let her hubby hog all the spotlight. She made her grand entrance at Vas J Morgan and Michael Braun's Halloween soirée with BoobyTape (what a party name, right?). The dynamic duo decided to go full-on Flintstones, with Hailey as Pebbles and Justin as Fred. Yabba-dabba-doo! I bet they had to Google some rock-solid dance moves to pull that off.
But the fun didn't stop there. The Biebers decided to give Sunday a taste of their Halloween magic by hitting up The Peppermint in West Hollywood. Justin had a sudden animal awakening and transformed into a super adorable deer. Complete with a onesie, a tail, and antlers, he strutted his stuff shirtless, proving that deer can have swagger too. Plus, he added some mushroom necklaces because, why not? Fashion-forward forest creatures, take notes!
Meanwhile, Hailey took a different route. She decided to channel her inner mystery agent or perhaps, the chicest ninja in town. She paired a black minidress with a long trench coat and, just to top it all off, a matching balaclava. You know, for that high-fashion, incognito vibe. Who knew ninjas partied so glamorously?
The Biebers' Halloween escapades were nothing short of epic, with costumes that ran the gamut from tropical explorer to prehistoric cartoon characters and, finally, the forest's finest and a mysterious fashion ninja. Can't wait to see what they come up with next year!