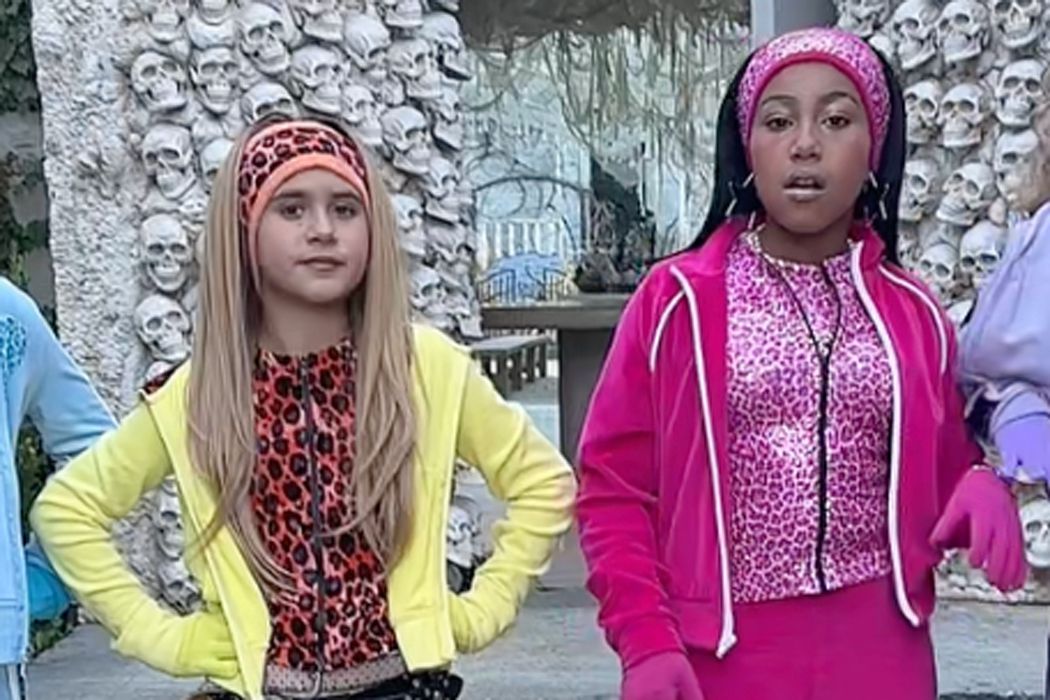 North West and Penelope Disick turned Halloween into a wild catwalk, going from mere cousins to the fabulous "Cheetah Sisters"! Kris Jenner's granddaughters and their dynamic duo of friends embraced the Cheetah-licious spirit this October 31st, donning outfits that would make even the original Cheetah Girls proud.
At just 10 years old, North channeled her inner Raven-Symoné, becoming the vivacious Bubbles and flaunting the signature all-pink ensemble that screams confidence and pizzazz. Meanwhile, Penelope, aged 11, unleashed her inner Sabrina Bryan, transforming into the sensational Do with an outfit drenched in sunny yellow delight. Their two fearless comrades stepped into the shoes of Kiely Williams' Aqua and Adrienne Bailon's Chuchie. As a delightful twist in the Cheetah tale, it's worth noting that Adrienne Bailon once dated North and Penelope's uncle, Rob Kardashian, making this costume choice a whole new level of iconic!
The fab foursome embarked on an epic TikTok journey, dancing up a storm as the Cheetah Girls themselves. They grooved to the tunes of "Amigas Cheetahs" from the second movie's soundtrack, nailing every move with enthusiasm. At the poignant line "friends for life" in the song, North and Penelope wrapped their friends in affectionate hugs, which were so sweet they could have been sponsored by a candy factory! Then, out came another pal who hilariously played the paparazzi, snapping imaginary pics of the cheetah-clad crew.
North, like the legendary Raven before her, was the undisputed star of the show. She held court in the center of all the TikTok antics, proving that she was ready for her Cheetah Girls debut. It's clear that North's been a devoted Cheetah Girls fan for eons. We're talking, like, longer than it takes to find the perfect Insta filter! Kim Kardashian once let the world in on North's Cheetah crush back in 2018, posting clips of Adrienne from the movies and joking about it possibly being a Kardashian family affair. Adrienne, a real trooper, even chuckled about it despite her past history with Uncle Rob.
After years of yearning, North finally got to live out her Cheetah Girls fantasy, and boy, did she work it! But hold onto your cheetah-print hats, because that wasn't the end of her Halloween saga. North also donned a costume inspired by Kanye's 2007 album "Graduation" in the form of a bear, and teamed up with her mom Kim, who rocked an Alicia Silverstone-inspired Cher from "Clueless" outfit, with North as Dionne (Stacey Dash's character). Talk about a costume extravaganza that would make even the Cheetah Girls proud!