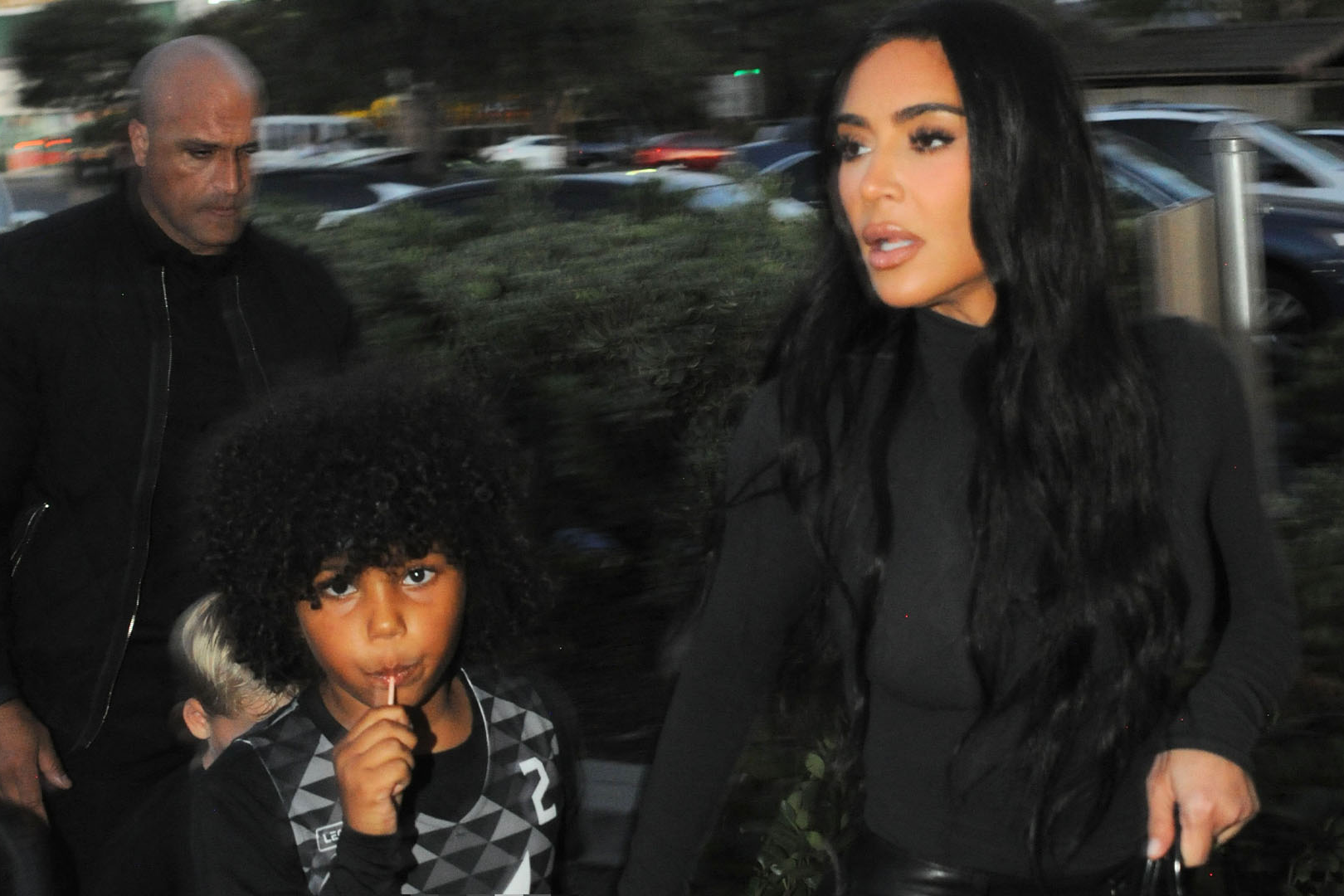 Saint West, the pint-sized legend, unleashed the ultimate weapon against the paparazzi menace, and boy, did he give them a fingerful! In a viral video that has everyone in stitches, this 7-year-old maestro of gestures flipped the bird to a swarm of photographers who dared to invade his space. Move over, Kim, Saint's got this!
The scene unfolds like a Hollywood blockbuster: Kim Kardashian, the world-famous mom of Saint and her entourage of tiny terrors, emerges from a car. As they step into the limelight, Saint West, our tiny hero, takes center stage. With the resilience of a seasoned pro, he extends his middle finger to the flashing cameras, unleashing a symphony of paparazzi gasps. But don't worry Kim steps in, superhero style, placing her hand on Saint's chest, as if to say, "Not today, kiddo!"
Let's not forget that Kim has a whole squad of little Kardashians running around – North, Chicago, and Psalm, courtesy of her ex-husband Kanye "Ye" West. And just when you think their adventures couldn't get any crazier, they go globetrotting! Fans recently witnessed Kim's epic "Soccer Mom Tour Trip" on Hulu, as she whisked Saint and his pals off to an Arsenal soccer game in London. Move over, Spice Girls, here come the Kardashians!
Kim proudly announced her mission to the world: "I am taking Saint and his best friends and their moms on a trip to London and Paris. It's called our 'Soccer Mom Tour Trip.'" Yes, this ain't your average playdate at the local park. Kim knows how to level up those playdates!
Our beloved Saint is undoubtedly a momma's boy, and Kim can't get enough of it. She knows that these adorable years won't last forever, so she's savoring every moment. But as every mom knows, it's not always smooth sailing. Saint, being the soccer fanatic he is, wanted a specific jersey for the game. Kim, the loving mom she is, realized she left it at home, and cue the melodrama: "the worst day of [his] life." We've all been there, right?
Kim, never one to shy away from real talk, admits that being the tough parent isn't her favorite pastime. She's as busy as a bee, and sometimes, she wishes she had a partner to swoop in and take over. Well, no knight in shining armor for Kim at the moment, but she did the next best thing – she hired a "manny"! Yes, you heard that right, a male nanny for her sons. Kim's household is "female-dominated," and she's got her bases covered. The only thing scarier than facing the paparazzi? Telling her ex, Ye, about this brilliant move. Bravo, Kim, you've got it all under control!
Kanye West's son Saint West hopped out the car with his mom and friends, then he flipped off the paparazzi 😂 pic.twitter.com/S1pSxbBWII

— Daily Loud (@DailyLoud) October 31, 2023