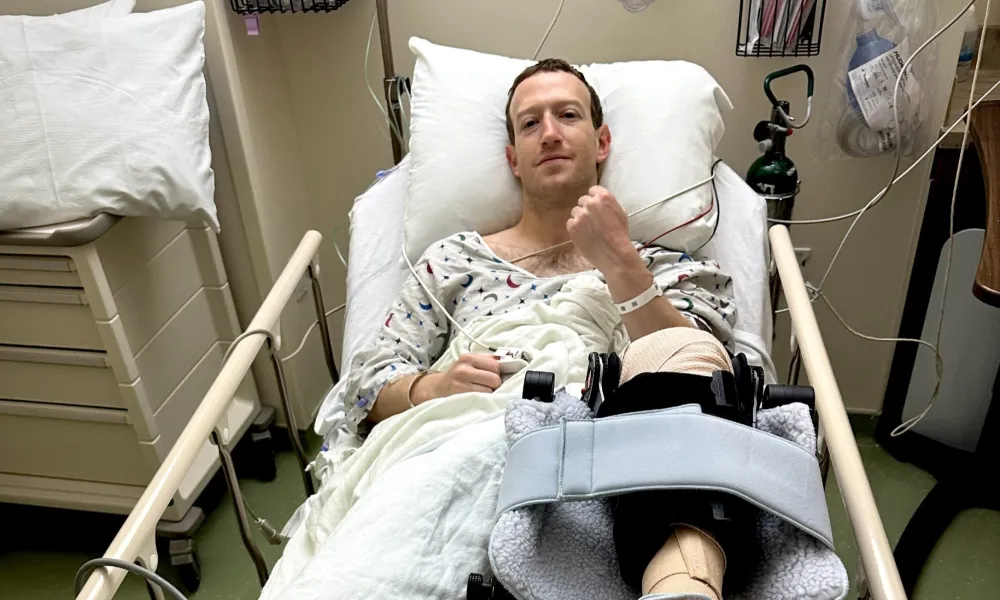 Our dear friend Mark Zuckerberg is taking his talents to the world of combat sports! The 39-year-old Meta CEO recently spilled the beans on his latest escapade, and it's nothing short of hilarious.
So, here's the scoop: Mark was apparently gearing up for a full-on "competitive MMA fight." You know, the whole shebang with sweat, muscles, and intense grappling. But in a plot twist that even Hollywood screenwriters would envy, he ended up tearing his ACL. Ouch!
In a move that can only be described as peak Zuckerberg, he decided to share his battle scars with the world on Instagram. Yep, you guessed it – hospital bed selfies. We're talking about multiple pictures of our favorite tech titan, propped up in a hospital bed, with his left leg wrapped up like a Christmas present.
In the caption, Mark spilled the beans (or spilled the punches, in this case), writing, "Tore my ACL sparring and just got out of surgery to replace it. Grateful for the doctors and team taking care of me. I was training for a competitive MMA fight early next year, but now that's delayed a bit. Still looking forward to doing it after I recover. Thanks to everyone for the love and support."
Now, we can't help but chuckle at the mental image of Mark Zuckerberg duking it out in the octagon, but don't worry; the fight against Elon Musk isn't happening anytime soon. Mark had initially made it seem like he was "ready to fight" Elon, but later, he spilled the beans again and admitted that the matchup "isn't serious."
Mark Zuckerberg, the MMA enthusiast. Who would have thought that the man behind Facebook and Meta would end up tangled in the world of mixed martial arts?