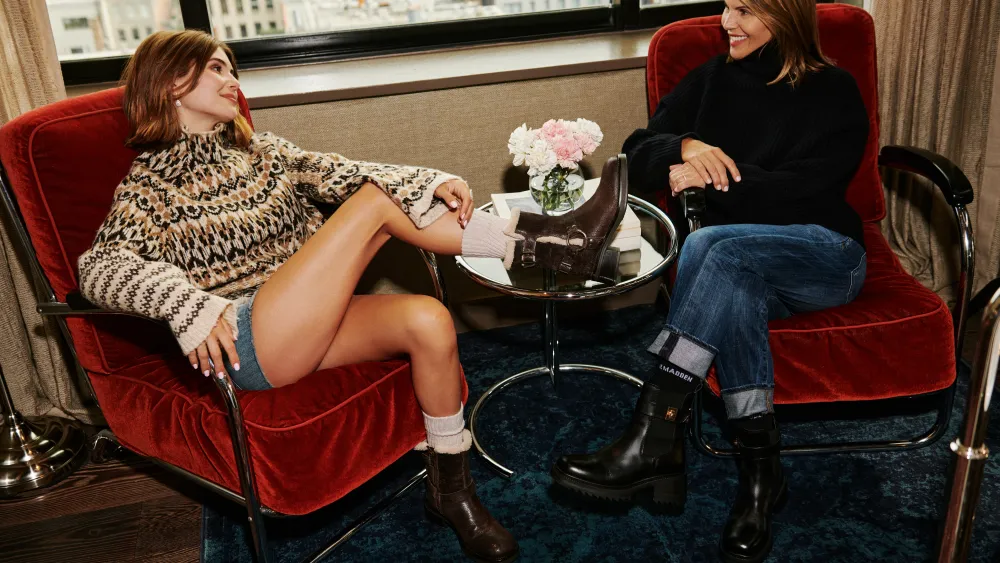 Lori Loughlin and daughter, Olivia Jade, are back in the limelight with a bang! These two fabulous ladies have teamed up with none other than the iconic shoe designer, Steve Madden, for a campaign that's all about the "Perfect Pairing." But let's not forget, this campaign is hitting the scene four years after the infamous college admissions scandal that rocked the tabloids.
Lori, you may remember, got caught up in a little scandal involving a not-so-small sum of $500,000, which she allegedly funneled to Rick Singer and his Key Worldwide Foundation. What was the grand plan, you ask? To make her daughters look like they were budding rowing prodigies, even though they'd probably struggle to row a boat in a bathtub. Lori's kiddos were supposed to be University of Southern California crew team recruits, but they couldn't tell a paddle from a pool noodle.
As a result of this eyebrow-raising venture, Lori packed her bags for a two-month vacation in federal prison, and her husband Mossimo Giannulli joined the club for five months. But now, it's time to put the past behind them and strut their stuff in style alongside Steve Madden.
In a quirky twist of fate, even Steve Madden had his own share of trials and tribulations. The man himself once had a 31-month stay in the big house for some stock manipulation, money laundering, and securities fraud shenanigans back in 2002. So, as they say, it takes one to know one! In an interview about the campaign, Madden said, "I don't think anybody cares. It's old news. We have these second chances in life, as I did. That's it. The way I look at it, she paid her debt to society. It's over." Who would have thought that Steve Madden, the shoe kingpin, would be the voice of reason in this footwear-filled fiasco?
Lori couldn't contain her excitement about the campaign, gushing about how much fun it was to work with Olivia and the Steve Madden crew. Apparently, they had a blast hanging out, playing dress-up, and just generally having a jolly good time. As Lori put it, "Olivia and I genuinely love spending time with each other, she makes me laugh, and I find her so entertaining. And I think that shows in the photos and the video footage." Who knew that trying on shoes could be this much fun?
Olivia, for her part, expressed her admiration for Steve Madden and his shoe empire. She raved about their styles for everyone and their commitment to inclusivity. Because, let's face it, shoes should be for everyone, whether you're a Hollywood starlet, a former inmate, or just an average joe with a penchant for fabulous footwear.
A scandalous past, a shoe guru with a checkered history, and a whole lot of shoe-tastic fun. Lori, Olivia, and Steve Madden are the "Perfect Pairing" we never knew we needed. It's time to put on those stylish shoes and take a stroll down the runway of redemption – one fabulous step at a time!