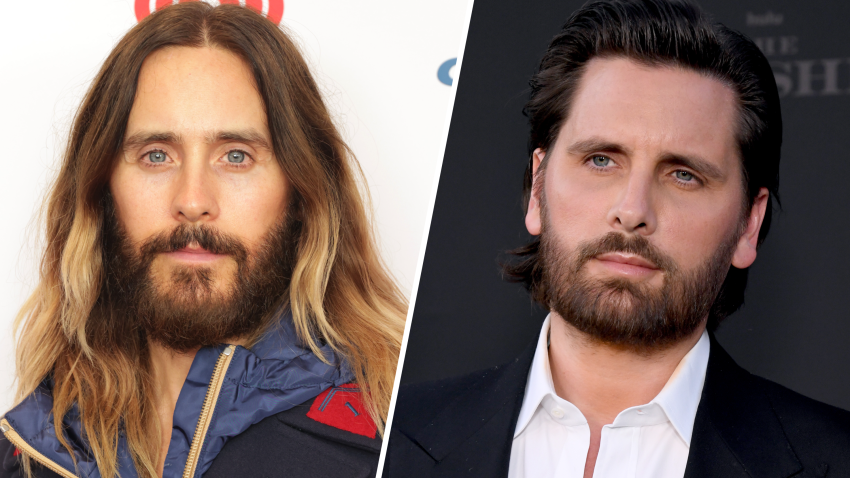 Jared Leto, the eternal 51-year-old vampire, is surprisingly open to embracing a long-lost relative in the form of Scott Disick, the lord of questionable life choices at 40! The dramatic maestro of the House of Gucci found himself tangled in the web of online doppelgänger speculation during a recent SiriusXM's TikTok Radio interview on November 17. When the host dropped the bombshell that some TikTok detective was convinced that Jared and Scott are "twins," Leto was left channeling his inner Oscar-winning disbelief, exclaiming, "Wow!"
Despite the absence of any family ties, Leto, with his enviable flowing locks, revealed he wouldn't mind being kin to someone as "wealthy" as Scott. In a fit of faux envy, he quipped, "That would be nice. Because then I would have a rich relative. Because he's very wealthy, right? Yeah, that would be nice." Hold on, Jared, let us grab our monocles and top hats to join the aristocratic banter!
Post-sharing this revelation, fans flocked to the comments faster than Scott to a Kardashian family event. One devoted follower claimed, "Scott Disick is the people's Jared Leto," suggesting that Scott is the embodiment of the masses' Leto dreams. Another chimed in, "Jared Leto and Scott looks [sic] like they can be brothers!!" Separated at birth or just sharing a stylist? The world may never know.
While fans were busy playing matchmaker, others couldn't resist poking fun at Leto's desire for a loaded relative. "Jared Leto acting like he isn't rich," one fan playfully noted, while another sarcastically questioned, "Is Jared Leto broke or something?" Someone fetch Jared a mirror; he needs a reality check on his own Gucci-clad reflection!
In a daring feat, Jared Leto, the man of many talents, made headlines for becoming the first person to legally scale the Empire State Building. Move over, Spider-Man; we've got a Gucci-wearing skyscraper conqueror in town! After ascending the iconic landmark on November 9, Leto spilled the beans on the experience to TODAY, confessing, "I was more excited than nervous to tell you the truth." Well, who wouldn't be thrilled to trade elevators for an 86-floor stairmaster session?
As clips of Leto's gravity-defying stunt hit the internet, fans and locals alike couldn't resist chiming in. One cheeky observer questioned, "Is this an ad for Gucci? I'm confused," while another teased, "Stop bro they already have a spider man." And just when you thought Leto climbed the building from the ground up, a vigilant follower clarified, "He started on the 83rd floor, so he climbed about 20% of it… Looks like fun if you have the $$$." Well, if you've got the cash and the charisma, apparently skyscraper ascension is the new Hollywood workout craze!