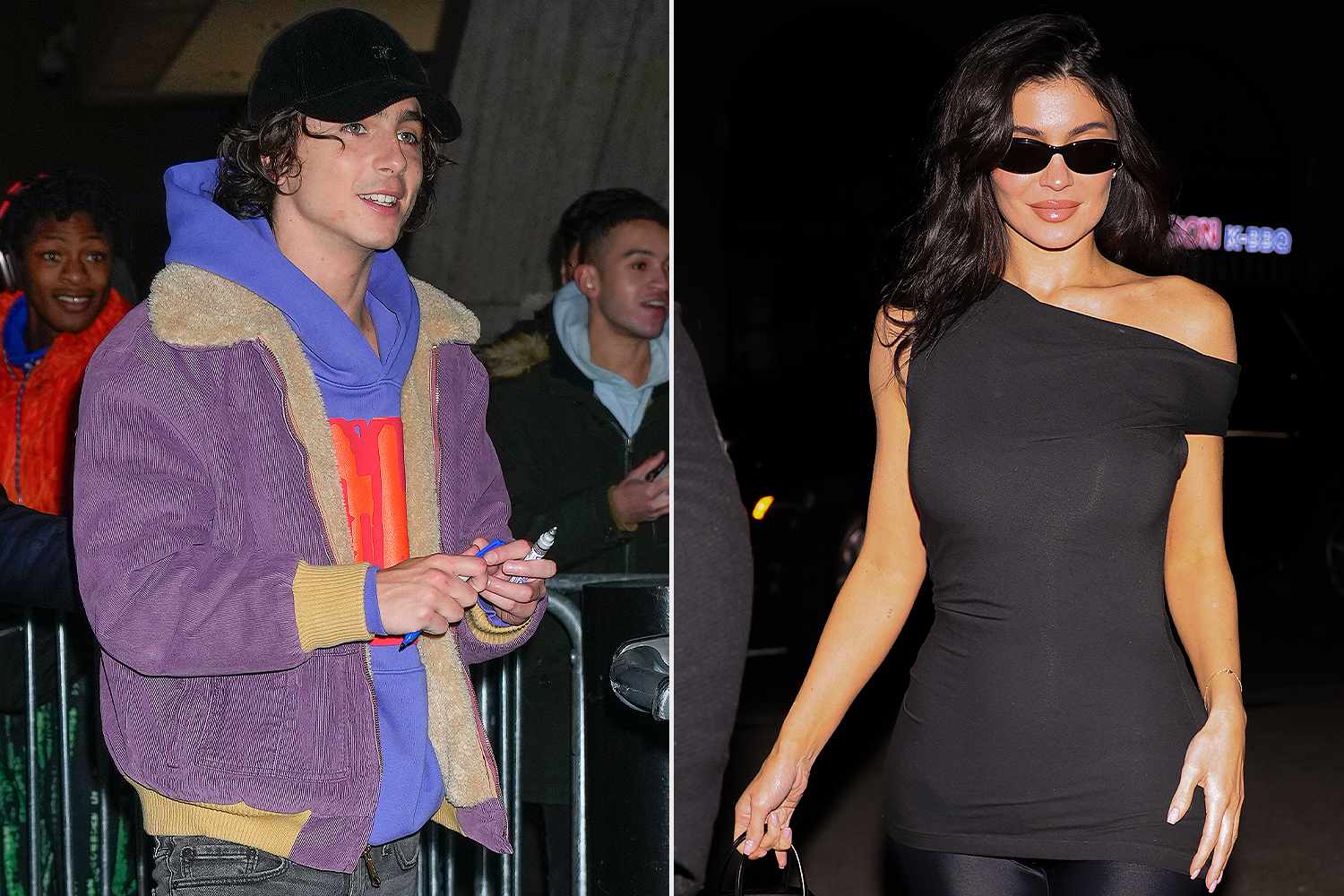 Kylie Jenner, the queen of cosmetics and the master of selfies, was recently spotted crash-landing at her boyfriend, the enigmatic and delightfully tousled-haired Timothée Chalamet's Saturday Night Live afterparty. She arrived with all the subtlety of a fireworks display on a quiet Sunday evening. And when I say "arrived," I mean she parachuted in from a passing zeppelin, dramatically touched down, and declared, "I have arrived, peasants!"
Now, here's the juicy scoop: our boy Timothée, at the tender age of 27, was hosting SNL for the second time. During his monologue, he decided to take the opportunity to shamelessly promote his upcoming movie, "Wonka." How did he do it? By serenading the audience with a remix of "Pure Imagination." I mean, move over, Gene Wilder; there's a new golden ticket holder in town, and he's got a killer set of pipes!
But, hold onto your chapeaus because the Kardashian sensation herself, Kylie, was not seen in the audience. Instead, she and Timothée pulled a classic 'we're not together, we just arrived separately to the same event' move, which is like saying, "We both love avocados, but it's purely coincidental that we're at a guacamole convention together."
In September, the paparazzi had a field day capturing them sharing smooches and sitting so close at the U.S. Open that they could practically play doubles tennis with their knees touching. Then, a month later, Timothée, in his charmingly coy way, addressed their romance during an interview with GQ. He lamented, "My intense fame sometimes makes me feel like I'm on that recent South Park episode with the Worldwide Privacy Tour. People just don't get it when you say you want a private life." Well, Timmy, you might be onto something there. It's tough to keep a low profile when you're the human equivalent of a double rainbow.
But, my friends, no amount of public scrutiny can tear these two apart. Kylie, who's used to paparazzi trailing her like lost puppies, from red carpets to those intense cereal aisle negotiations, is unflappable. She's basically the Beyoncé of the makeup world – always camera-ready, and when life gives her lemons, she makes a photo shoot out of it.
And before his SNL escapade, our Chalamet crusader attended the 2023 WSJ Magazine Awards to support his lady love. Kylie was bestowed the title of "brand innovator of the year" at the event, and during her acceptance speech, designer Haider Ackermann hilariously quipped about her "very attractive lover." Talk about a power couple! Kylie, being her modest self, kept her speech short and sweet, saying, "I've always loved beauty and fashion, and I'm just thrilled that my new Khy brand launched today. It's so special to me." If my brand launched, I'd probably just tweet about it and hope for the best.
And to make it all even cuter, Kylie subtly nodded to Timothée in her recent magazine interview by saying, "I do love that movie," when asked about his 2021 flick, "Dune." Ah, young love! It's like Romeo and Juliet, if they had Instagram accounts and a billion-dollar empire at their fingertips.