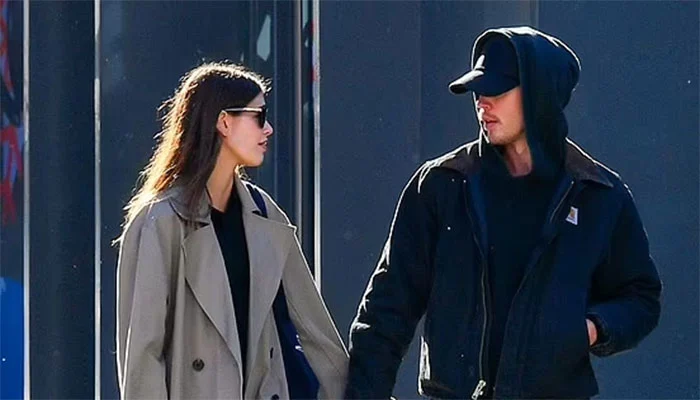 In a spectacular display of love that even Cupid would envy, Kaia Gerber and the dashing Austin Butler pranced through the lively streets of Soho in the heart of New York City. It's a romance so enduring, it makes your grandma's famous fruitcake seem like a fleeting fling.
Approaching the milestone of three years together, the dynamic duo decided to spice up their day with a dash of retail therapy. Because what better way to celebrate love than maxing out those credit cards, right?
Kaia, the style maven that she is, rocked black pants with a matching top, topped off with a coat that could make even the fashion deities jealous. And let's not forget the pièce de résistance – her black and white Adidas shoes, a bold fashion statement that screamed, "I woke up like this… fabulous!"
On the other side of this sartorial love affair, Austin Butler went all-in on the black ensemble – pants, shirt, shoes, jacket, and a casual ball cap to cap it all off. Because when you're strolling through Soho, you've got to be ready for a surprise photoshoot at any corner.
Rewind to December 2021, when the rumor mill started churning after Kaia and Austin were spotted leaving a yoga class together in Los Angeles. Yoga: where spiritual enlightenment meets the possibility of finding your next great love story. Who knew?
Before this power couple found each other, Kaia bid adieu to her relationship with Jacob Elordi in November 2021. It lasted just a bit over a year, making it about as long as it takes to perfect a TikTok dance.
And who could forget Austin's eight-year saga with Vanessa Hudgens, which concluded in January 2020? Eight years – that's longer than some TV shows last these days.
Fast forward to the Golden Globes, where Kaia beamed with pride as her leading man bagged the Best Actor award for his Elvis magic. Move over, Hollywood – there's a new power couple in town, and they've got a trophy to prove it!
Post-Oscars, our photogenic twosome jetted off to Cabo San Lucas, Mexico. Because nothing says "I love you" like sandy beaches and a touch of sunburn.
Since their sun-soaked escape, the lovebirds have been painting the town red – or maybe black, in keeping with their wardrobe choices. Cozy date nights, family hangouts – it's a love story so sweet, it could give rom-coms a run for their money. So, here's to Kaia and Austin, the reigning champs of romance in the concrete jungle!