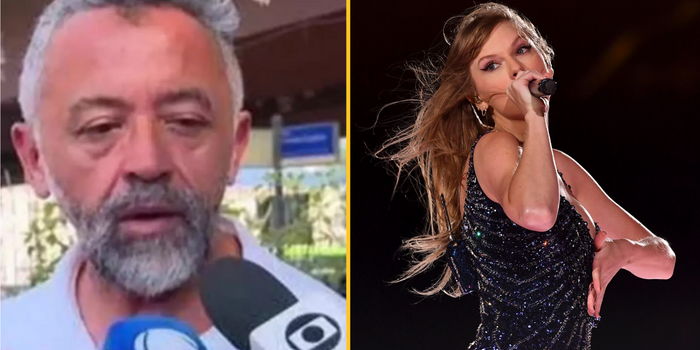 Weiny Machado, the father of Ana Benevides, a devoted Taylor Swift fan who tragically met her end in Rio de Janeiro, has some choice words to share about the unfortunate incident. In a bizarre twist of fate at the singer's scorching concert, Ana succumbed to the heat, leaving her dad grappling with the loss of his only daughter.
Weiny, 53, spilled the beans to Brazilian newspaper Folha de S.Paulo, and boy, did he have some feelings to vent. Picture this: a grieving dad with a mix of heartache and disbelief, saying, "I lost my daughter, the one who was about to graduate in psychology. She was saving money, you know, planning a future. Now, she's planning nothing because she's dead."
Desperate for answers, Machado is on a quest for truth, demanding an investigation into the circumstances surrounding Ana's demise. He's not buying into the heatwave excuse and wants to know if they were all forbidden from bringing water. The man means business.
"I want it to be found out whether they were, in fact, prohibited from bringing water, whether there was negligence in providing assistance," he declared, throwing shade hotter than the Rio temperatures.
As previously reported, Ana's untimely exit from this mortal coil happened just before Taylor Swift's Brazil Eras Tour hit the stage. The poor girl fainted in the front row, got a makeshift revival in the stadium (a 40-minute CPR session, if you will), and then had the audacity to have a second cardiac arrest on her way to the hospital. Talk about being fashionably late to the afterlife.
The heat index at the stadium apparently reached temperatures hotter than your favorite pop star's latest single – a scorching 140°F. Firefighters were counting faintings like they were festival wristbands, with a thousand fans taking a dramatic dive.
Rumors circulated on social media that fans were treated like parched cacti in the desert, allegedly forbidden from bringing life-sustaining water bottles into the stadium. Swift, in a desperate attempt to hydrate her wilting audience, halted the show multiple times to plea for water. It's like she was trying to run a concert, not a dehydration experiment.
Swift took to social media to express her shock and grief, sharing a letter on Instagram Stories. "I can't believe I'm writing these words, but it is with a shattered heart that I say we lost a fan earlier tonight before my show," she bemoaned, adding, "This is the last thing I ever thought would happen when we decided to bring this tour to Brazil."
In a surprising twist, the extreme temperatures seemed to take a toll on Swift herself. A fan video captured her post-performance, gasping for air like she just sprinted through a desert of broken dreams. The conditions got so bad that Swift had to hit pause on her second Rio concert. In an Instagram post, she declared, "The safety and well-being of my fans, fellow performers, and crew always have to come first." Because, you know, staying alive is a prerequisite for enjoying a concert.
Ana's dad is mad, Swift's mad, fans were fainting left and right, and Rio turned into the hottest place on Earth. And you thought Taylor Swift concerts were just about catchy tunes and sparkly outfits. Think again.