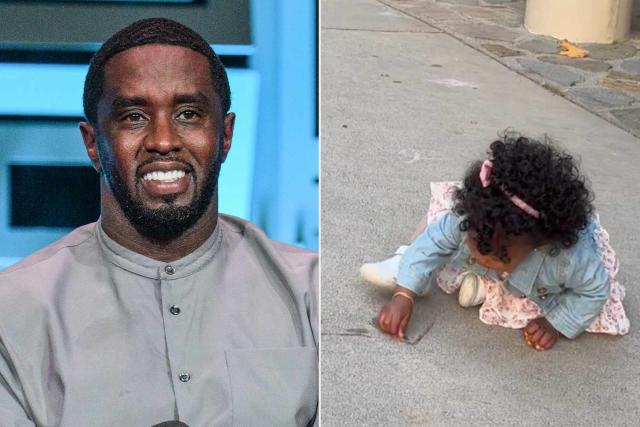 In a video that's bound to make even the grumpiest of souls crack a smile, Diddy proudly presented his 1-year-old daughter, Love, as she embarked on an epic adventure at the playground. Love, who's inherited her dad's cookie-loving genes, was seen strutting her stuff while happily chomping on her prized cookie.
With the camera rolling, Diddy couldn't contain his excitement, showering Love with words of encouragement. "Hey, look at you walking. Look at you," he crooned, as if his little one had just won a marathon. "You look like a little person. You a little person? Yes, Daddy, that's what you made me — a little person."
However, things quickly took a turn for the hilarious when Love decided to test her falling skills. She toppled over, leaving her cookie to face the cruel fate of the pavement. Diddy, the ever-supportive dad, yelled out, "That's right, get up, baby. Get up! You can do it! You can do it!"
With great determination, Love struggled to push herself up, and in the process, her cookie transformed into a pancake of cookie goodness on the ground. But that didn't deter our young cookie monster. As she finally stood, she noticed a small piece of cookie still beckoning from the ground. Naturally, she plopped down to claim her prize.
"Oh, You gonna eat … you still gonna eat that? Oh, you ain't trying to leave nothing," Diddy quipped as Love reached for the ground-level snack. But before she could indulge, the musician realized he was seconds too late. "No, no, no, no!" he exclaimed, rushing over to prevent the cookie catastrophe.
"Don't put that in your mouth. Spit it," he ordered, but alas, the deed was done. "Oh, shoot. Well, you're a tough baby. Eat the dirty food," he conceded, letting out a hearty laugh. "Daddy used to eat dirt. How do you like dirt?"
Diddy's followers, probably parents who've been there themselves, chimed in with comforting comments. "Immune system will be top tier! 😂 She alright Daddy…she alright…" one follower reassured, while another added, "Every parent has that moment of nooooooooo… too late!" Some even invoked the sacred "five-second rule."
Recently, Diddy and his partner Dana Tran celebrated Love's first birthday with a pink-themed extravaganza, featuring more balloons than the Macy's Thanksgiving Day Parade, floral arrangements that could rival a royal wedding, and a sign showcasing Love's growth over the past year.
"HAPPY 1ST BIRTHDAY LOVE!!! DADA LOVES YOU SO MUCH!!!" Diddy exclaimed on Instagram, alongside a photo of Love looking adorable next to a kaleidoscope of balloons.
But the fun didn't stop there. Diddy and Love kicked off Halloween early, with Love donning an irresistible white chicken costume that had her bouncing to the beat of her own "clucks." Diddy, sharing the hilarious moment, captioned it with, "Love wanted to start Halloween early!"
They also made a pumpkin patch pitstop for some gourd-inspired shenanigans, and Diddy proudly declared, "It's Baby Love's first Halloween! 🙏🏿"
In case you didn't know, Diddy is one busy dad. He's got a squad of seven children, including Christian, twins D'Lila and Jessie, Quincy (whom he's embraced from another relationship), Justin, and Chance. Diddy's got more kids than a candy store has sweets!
A day in the life of Diddy and his darling daughter Love, filled with cookies, falls, and a whole lot of love and laughter. Because, in Diddy's world, even a cookie collision can be comedy gold. 😂🍪💃