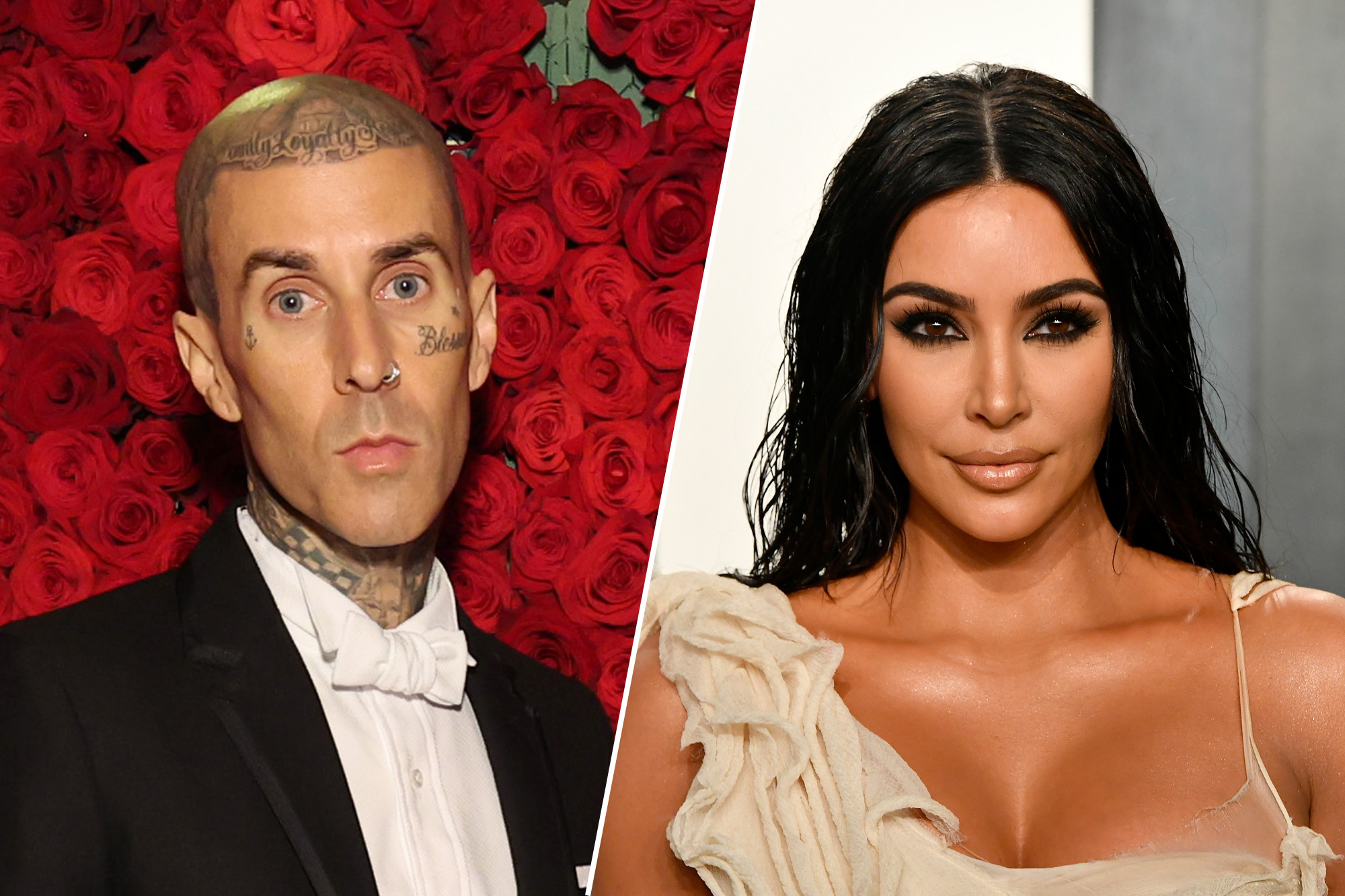 Travis Barker, the drum-banging dynamo from Blink-182, is here to quash the rumors that are swirling around his wife, Kourtney Kardashian, and her epic sisterly showdown with Kim Kardashian. Hold onto your drumsticks!
So, apparently, excerpts from Travis's 2016 memoir, the literary masterpiece known as "Can I Say," decided to make a surprise comeback online. In this riveting piece of literature, Travis dropped a bombshell – he called Kim, the glam Kardashian who never met a selfie she didn't like, "f–king hot." That's right, he openly admitted to "secretly checking [her] out" during his brief fling with Paris Hilton back in 2006. I mean, who could resist those alluring selfies and contouring skills, right?
Now, because the internet is a place where every tiny detail turns into a grand conspiracy, fans started speculating that Travis's past crush on Kim was the secret ingredient in the Kardashian feud casserole. They thought they had cracked the code. But wait, Travis is here to set the record straight.
In a recent interview, Travis gave those rumor mill hamsters a much-needed break. He said, "You give people a little information, and they think they've solved the mystery of 'this is why they're fighting.' It's just so ridiculous." We couldn't agree more, Travis. It's almost as if people thought you were some kind of "womanizer" because you complimented Kim. Oh, the horror!
As for his juicy comments about Kim in his memoir, Travis clarified, "I obviously shared all that stuff because I wanted to move past it. It was therapeutic for me." We see, Travis – therapeutic, like a rock 'n' roll confession booth!
He also made it crystal clear that his past crush on Kim wasn't the chaos-causing culprit between the sisters. "That's her sister. She knows we used to talk. Nothing bad was going on." Well, there you have it – a Hollywood love triangle with all the drama of a Disney Channel sitcom.
Let's rewind to 2021, when Kim Kardashian herself stepped in to douse the rumor flames. With all the subtlety of a fire extinguisher, she declared on her Instagram Story, "NO! False narrative!" She made sure to set the record straight, confirming they'd been friends for years and adding, "I'm so happy for him and Kourt." Phew, it's almost as if these celebrities are real people with real friendships and real emotions!
So, in the grand saga of "Kardashian Sister Feuds," it seems the drumsticks have dropped, and the curtain has fallen on the Travis Barker drama. But don't worry, the next episode of this wild reality show is just a news cycle away!