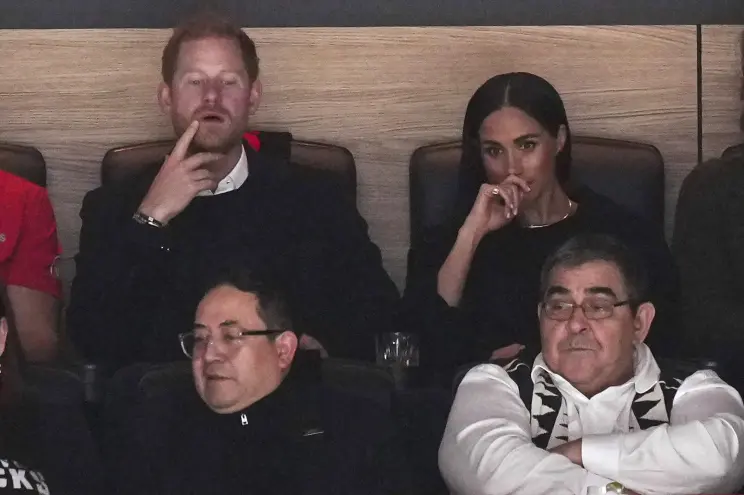 Guess who crashed the Vancouver Canucks vs San Jose Sharks game on Monday night? None other than the Duke and Duchess of Sussex, aka Prince Harry and Meghan Markle! Yep, they decided to take a break from royal duties to catch a hockey game in Vancouver, Canada. Because, you know, what's more regal than a Zamboni?
Now, Meghan has been a Canucks fan for ages – way back to her Suits days when she was slaying it on the hit TV show up north. Who knew being a duchess also came with a VIP pass to the hockey rink?
But here's the real highlight: When the Canucks scored a goal, Prince Harry busted out some moves that would make even the most seasoned disco ball jealous. I mean, forget the royal wave – it's all about the royal dance now. Move over, Fred Astaire; Prince Harry's in the house!
And if that wasn't enough, the dynamic duo brought along their partner in crime, Markus Anderson, who's basically the wizard behind the scenes at the celeb-fave Soho House. Rumor has it that he's the one who hooked Meghan and Harry up with exclusive rooms at the club's hotspots in London and beyond. Forget Cupid; Markus is the true matchmaker of the royals.
A night of puck-dropping, goal-scoring, and royal dance-offs. Who said being a duke and duchess was all tiaras and tea? Sometimes it's just about cheering for your favorite hockey team and breaking it down like nobody's watching. Game on, Harry and Meghan, game on! 🏒💃
Two points and two new #Canucks fans tonight! pic.twitter.com/tpHDDZg5Il

— Vancouver Canucks (@Canucks) November 21, 2023