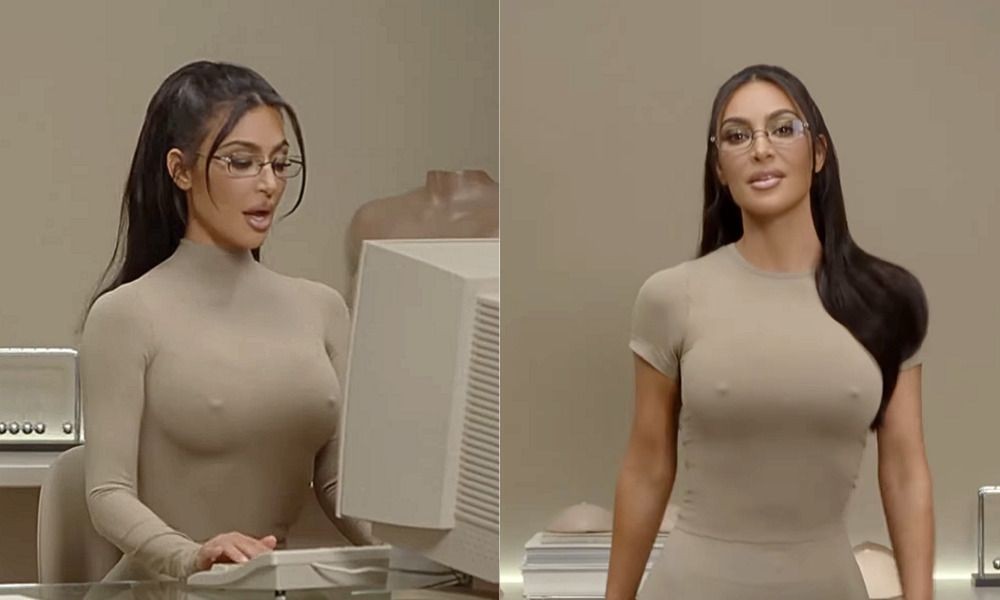 Not everyone's bouncing with joy like a caffeinated kangaroo over Kim Kardashian's latest fashion innovation. On a fine Friday, the reality star graced our Instagram feeds with something truly out of this world, or at least, out of her wardrobe – behold the SKIMS Ultimate Nipple Bra. Yes, you read that correctly! This isn't just your ordinary brassiere; it's armed and ready with faux nipples for those who are thirsting for that chilly look.
Kimmy debuted this creation in a video that can only be described as 'climate scientist chic.' Picture this: Kim K, dressed head-to-toe in SKIMS, stepping into character as an unlikely climate scientist. She declared:
"The Earth's temperature is skyrocketing faster than my contouring skills. Sea levels are doing their best Jack and Rose impression, and the ice sheets are playing hide-and-seek. Now, I may not have a PhD, but I do believe everyone can do their part."
Next, she gracefully approached a diagram of her frosty new undergarment, enlightening us:
"That's why I present to you a groundbreaking bra with built-in icebreaker nipples. No matter how sweltering it gets, you'll always look like you've just met the Abominable Snowman!"
Hold onto your snow hats because she continued:
"Some days are tough, but these nipples are tougher. And unlike the icebergs, these babies aren't going anywhere."
The polar bears would be so jealous!
She went on to say:
"Seriously, it's like wearing Elsa's secret in your secret underwear drawer."
And the Internet went wild! Fans flooded the comments section with a range of emotions, from bewilderment to amusement:
"Did she just make a global warming joke?"
"For a moment, I thought it was an April Fools' prank, but it's October LOL."
"This is all just a prank, right? Please say YES."
"While people are dealing with serious stuff, celebrities in America…"
Yet, for some, this unconventional garment was a breath of icy fresh air:
"It's giving me 'Regina George cut holes in her sweater, so I did too.'"
"It's giving me Jennifer Aniston in every episode of Friends."
"For someone who's had a double mastectomy, this is a dream come true."
"As a breast cancer survivor, thank you, Kim!"
Love it or freeze it, Kim vows to donate 10% of the proceeds from the Ultimate Nipple Bra sales as a "one-time donation" to 1% for the Planet, a global network of eco-warriors and businesses that join forces to save the planet. One person commented:
"Please tell me this is a joke… You lost me with this one, Kim. Using climate change as a punchline to sell fast fashion… these carbon removals better be superhero-level! Talking carbon-negative, girl!"
Well, the jury is out, and the decision is in the hands of the one and only Kimmy K. Will this chilly lingerie innovation freeze the fashion world in awe, or will it melt into obscurity? Only time will tell!