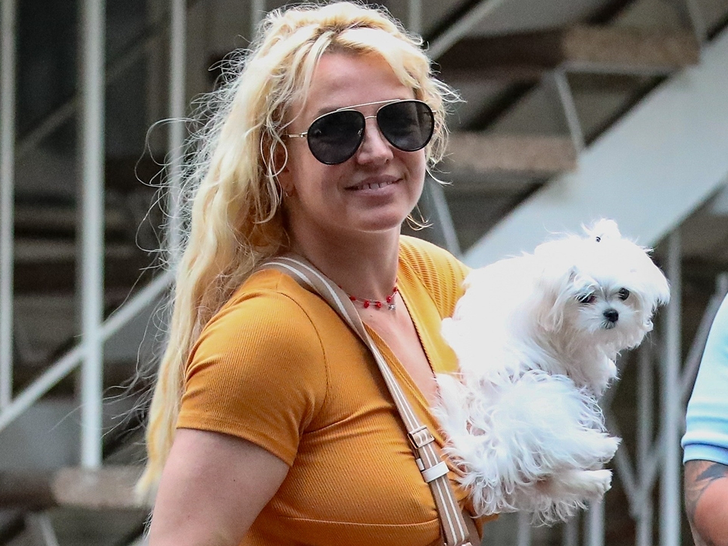 Guess who was spotted rocking the world with her dazzling smile in West Hollywood? None other than the queen of pop herself, Britney Spears, making her grand entrance into the public eye after dropping the bombshell memoir, "The Woman In Me."
In the latest paparazzi snaps from the glamorous streets of West Hollywood, Britney was seen strutting her stuff towards the celeb haven, Chateau Marmont, arm in arm with her partner in crime, Cade Hudson. Oh, and let's not forget her furry accomplice, Snow, the dog she scooped up in August after a fierce custody battle with her ex, Sam Asghari. Yes, it turns out even pop stars engage in custody wars over their canine companions.
Decked out in her fall fashion best, Britney sported a snug orange dress that screamed, "I'm fabulous, darling!" paired with light brown boots that probably cost more than your monthly rent. And of course, she threw on her trademark Aviator sunglasses because, as we all know, a pop star's power is directly proportional to the size of their shades.
Completing her ensemble with a purse that could double as a small car, Britney strutted into the scene, proving once again that she's the fashion icon we never knew we needed.
This epic public appearance is the first time Britney aficionados have caught a glimpse of their idol since the literary masterpiece, "The Woman In Me," hit the shelves. Forget the fact that she's made headlines for her unique knife-dancing skills or the ongoing soap opera of her divorce drama; it's all about that memoir.
In the tell-all, Britney spills the tea on her relationship with Justin Timberlake, dropping the bombshell that she once thought they'd be picking out baby names together. But nope, Timberlake apparently wasn't ready for daddy duty. Britney spilled the details, sharing, "I loved Justin so much. I always expected us to have a family together one day. This would just be much earlier than I'd anticipated. He said we weren't ready to have a baby in our lives, that we were way too young." Talk about throwing shade!
Agreeing to press the pause button on the baby-making dreams, Britney confessed, "I'm sure people will hate me for this, but I agreed not to have the baby. I don't know if that was the right decision. If it had been left up to me alone, I never would have done it. And yet Justin was so sure that he didn't want to be a father." Well, well, well, looks like Britney's life is a rollercoaster, and we're just here for the wild ride. Cheers to Britney, the unstoppable force of pop and drama!