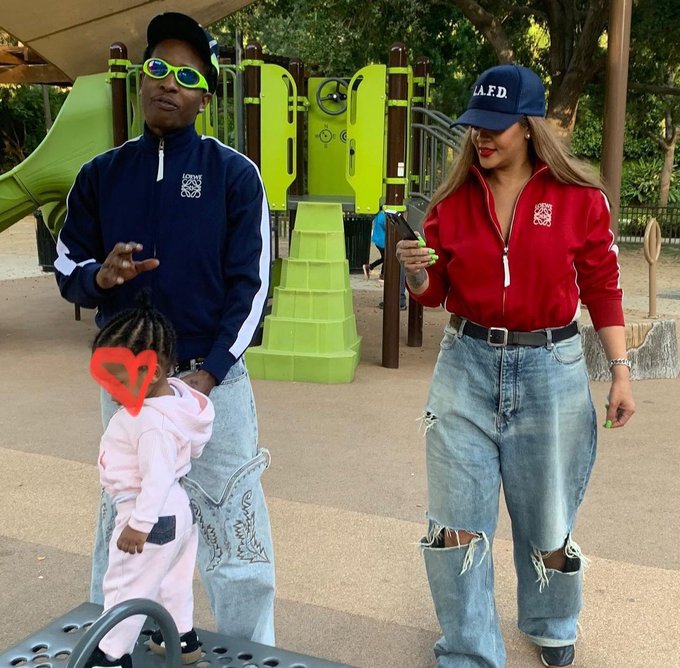 Rihanna and A$AP Rocky, the dynamic duo of swag and style, recently made headlines for their epic family day out. And, no, it wasn't some wacky reality TV show – it was a real-life adventure!
So, picture this: A$AP Rocky, the rapper with a penchant for gun charges, decided, "You know what, let's take a chill pill and head to a Beverly Hills park." Why not, right? The power couple, fresh from welcoming their second offspring into the world, was in the mood for some leisurely family bonding.
They strolled into the park like they owned the place, with their 17-month-old son, RZA Athelston Mayers, comfortably lounging in a stroller. It's like their little bundle of joy was living the VIP life while the rest of us were pushing shopping carts at the grocery store.
Rihanna, the queen of fashion, sauntered around in a red Loewe track jacket, which is essentially a fancy way of saying she was wearing a jacket that costs more than most of our rent. But hey, when you're Rihanna, you can make a potato sack look stylish. She paired the jacket with some baggy ripped jeans and sleek black Puma sneakers, because who needs high heels when you're a fashion icon?
And let's not forget her signature hair, flowing beneath her headwear like a majestic waterfall of fabulousness. To top it off, she decided that the park needed a pop of color, so she slapped on some bright red lipstick that was visible from space.
Now, A$AP Rocky, not to be outdone in the fashion department, thought, "I want to match my lady." So, he strutted around in a blue version of the same ridiculously expensive Loewe track jacket. Coordination is key, right?
While they were busy showcasing their style, A$AP Rocky decided to play the role of a modern superhero dad. He sprinted to get some ice cream for Rihanna and their tiny tot. The man's got ice cream-fetching skills that rival Usain Bolt's sprinting prowess.
Just a few days before this epic family escapade, A$AP Rocky was doing the classic "facing serious charges in court" thing. But instead of being a nervous wreck, he was the very picture of calm and collected. It's almost like he was thinking, "Eh, court appearances are overrated. Let's get some ice cream."
And what about Rihanna? Rumor has it she's gearing up for a comeback after a five-year music hiatus. That's right, she's about to bless our eardrums again. We can only imagine her singing in the courtroom: "Please don't stop the music, judge!"
But here's the kicker: Despite all the legal chaos, this power couple showed the world that nothing can shake their commitment to each other and their adorable family. While A$AP Rocky faces the possibility of eight years behind bars, they continue to radiate love, style, and a dash of humor, proving that when life gives you lemons, just add some ice cream and dance to your own tune.