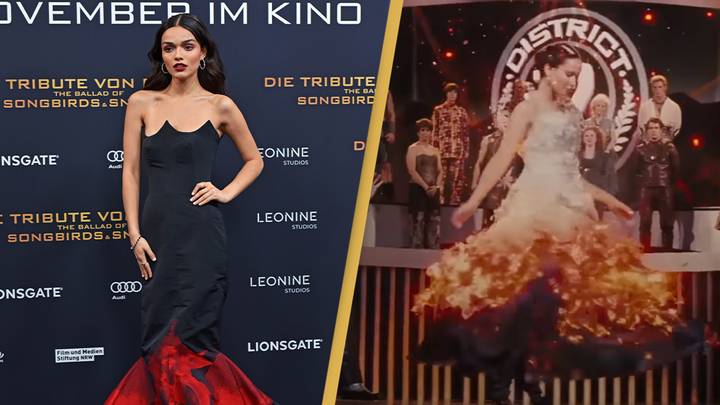 Rachel Zegler set the red carpet ablaze at the premiere of her new film, "The Hunger Games: The Ballad of Songbirds and Snakes," which took place in the exotic realm of Zoo Palast on a Sunday (because, you know, premieres are always scheduled for Sundays in Zoo Palast, Berlin, right?).
The 22-year-old star's outfit wasn't just hot; it was practically the reincarnation of Katniss Everdeen's legendary fire dress from "The Hunger Games: Catching Fire." Rachel's dress, a strapless mermaid gown, was like a phoenix rising from the fashion ashes with its fiery bottom. We're talking so hot that firefighters were on standby, just in case.
Rachel's co-stars, Tom Blyth and Hunter Schafer, were there too, along with her boyfriend, Josh Andrés Rivera, and the director, Francis Lawrence. It's like the whole gang showed up to watch the fashion fireworks.
Rachel, who plays Lucy Gray Baird in the film, was basically playing a high-stakes game of dress-up as she paid tribute to Jennifer Lawrence's iconic Katniss character. It's like she said, "What better way to honor the past than by wearing something that's sizzling in the present?"
And here's the cherry on top: Apparently, there's an Easter Egg in the trailer that's all about Katniss. So, the dress wasn't the only way Lucy was giving a nod to the OG heroine.
If you're still living under a rock, mark your calendar because this prequel is landing in theaters on November 17th, and it's going to be hotter than a dragon's breath.
P.S., for those who are dying to know, Rachel's dress was an Alexander Wang masterpiece, she wore Giuseppe Zanotti shoes, and Chopard jewelry (because why not?). Hunter, on the other hand, was channeling her inner Schiaparelli.