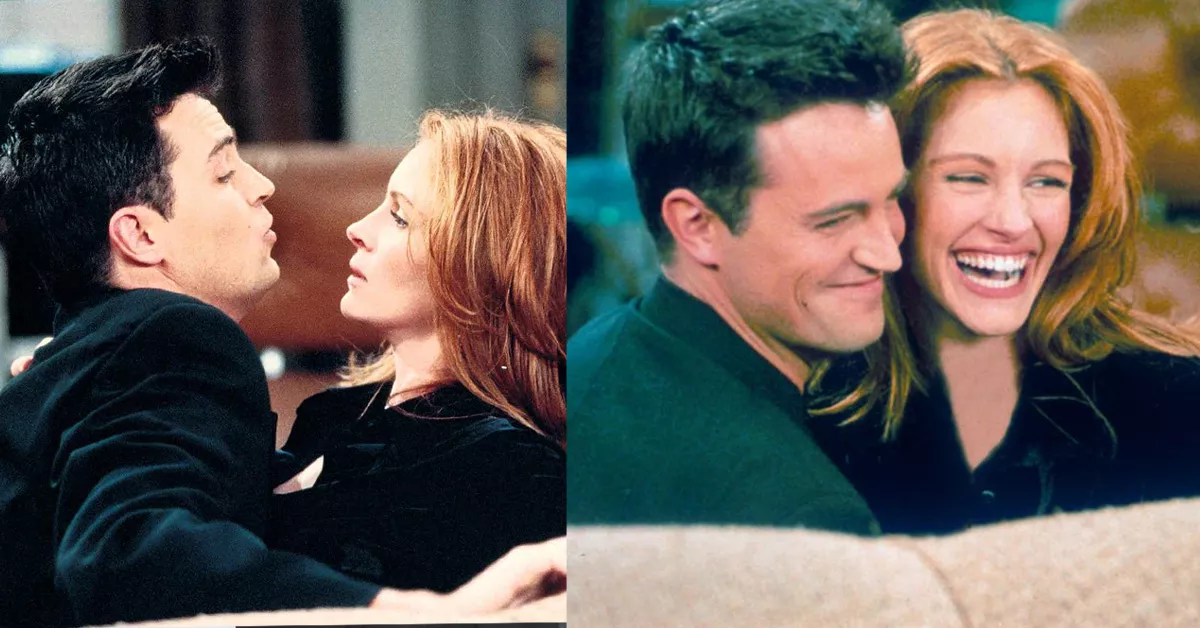 The absolutely jaw-dropping news of Matthew Perry's "passing" this past Saturday landed like a wrecking ball in the hearts of those who adored him – Friends fans, friends, and even Friends of Friends. But if there was one person out there for whom the timing couldn't have been more inopportune, it was none other than America's sweetheart herself, Julia Roberts.
You see, October 28th just so happens to be the day our beloved Julia adds another candle to her already star-studded birthday cake. What's the connection, you ask? Well, strap in because we're taking a trip down the delightful memory lane of '90s rom-com royalty.
Back in the heyday of Friends, Matthew Perry embarked on a quirky, heart-fluttering courtship with none other than the Pretty Woman star herself. This was a time when smartphones were a futuristic dream, and texting was a distant concept. So how did these lovebirds communicate? Drumroll, please… by fax machine! That's right, they exchanged heartfelt missives via the timeless art of faxing. Perry lovingly penned in his memoir, "Friends, Lovers, and the Big Terrible Thing":
"Three or four times a day, I would sit by my trusty fax machine and watch in awe as the paper slowly revealed her next missive."
Can you even? It was adorable and ahead of its time! They eventually moved on to the ever-so-romantic phone conversations, talking for a staggering five hours during their first call. Adorable, right? They even dated for a splendid six months in 1995. Julia even graced the set of Friends with her presence in a memorable cameo. It was a Hollywood romance for the ages, even if it didn't make it to the one-year mark.
Now, here's the kicker – it was Matthew who pulled the plug on their love story. In his own words:
"Dating Julia Roberts had been too much for me. I had been constantly certain that she was going to break up with me. I was not enough; I could never be enough; I was broken, bent, unlovable… So instead of facing the inevitable agony of losing her, I broke up with the beautiful and brilliant Julia Roberts."
We've all had relationships where we felt like the other person was just too darn good for us, right? But most of us weren't dating the nation's sweetheart! So, we get why it was such a struggle for poor Matthew.
Fast forward three decades, and it seems that, inadvertently, Matthew has broken Julia's heart yet again. Perry was discovered at his Los Angeles abode on that fateful Saturday, apparently succumbing to a watery fate, likely after a bout of heart drama.
And here's the kicker – it was Julia's 56th birthday. Yes, the same date when people across the internet will forever remember Matthew Perry and express how much they miss him. The irony is simply mind-boggling. We can't even fathom the emotional rollercoaster she must have been on. For Julia, her birthday will now forever be a day when the internet gets all teary-eyed about Matthew Perry. Talk about a bittersweet gift!