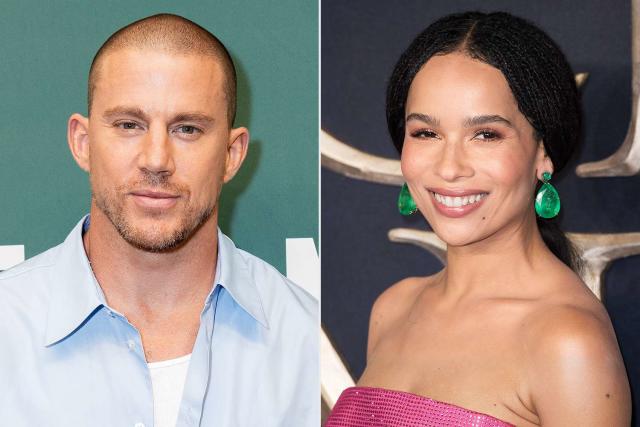 It's official, Channing Tatum and Zoe Kravitz are about to take that daring leap into matrimonial bliss! The Magic Mike maestro, a spry 43-year-old, and The Batman beauty, a stunning 34, recently decided to make their love official in a way that would put Cupid to shame.
And just to make sure everyone was in on the secret, they didn't whisper it to their cat – multiple sources confirmed this juicy nugget to People. Seriously, they probably hired a skywriter, but the skywriter got the date wrong or something. You know how those things go.
To kick things off, Zoe decided to showcase her brand new bling at a star-studded Halloween bash. Picture it: Zoe, looking like the epitome of Halloween chic as Rosemary Woodhouse from Rosemary's Baby. And then, there's Channing, in all his glory, dressed as the baby. Yes, you heard that right, the baby! If that's not a match made in costume heaven, we don't know what is.
But the love story of these two didn't start with spooky Halloween parties. No, siree! It all began during the casting process for a little flick called Pussy Island, which also marks Zoe's directorial debut. Because, why not dive headfirst into the deep end of love and career milestones all at once? These two are not here for a casual paddle; they're doing cannonballs!
And if you're wondering what keeps this dynamic duo together, Zoe spilled the beans in a GQ interview last year. Apparently, Channing has the magical ability to make her giggle like a schoolgirl, and they both adore the world of art. They can chat about it all day long, dissecting films and challenging each other's intellectual prowess. It's a love story so profound it's basically the Rom-Com equivalent of "Inception."
Now, we can't forget about their previous relationships. Channing was hitched to Jenna Dewan, and they've got a 10-year-old cutie named Everly to show for it. Zoe, on the other hand, was previously married to actor Karl Glusman. But hey, when life throws you lemons, make a movie, fall in love, and dress up as iconic horror film characters for Halloween, right?