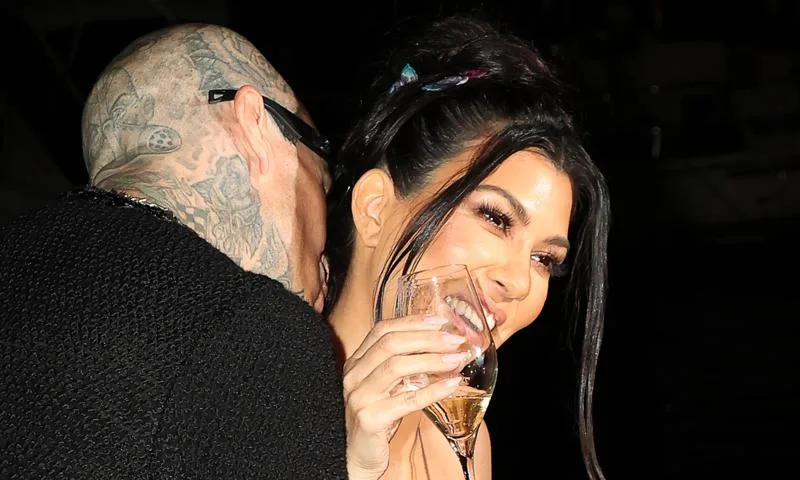 The latest scoop on Kourtney Kardashian and Travis Barker's newest addition is here, and it's juicier than a watermelon at a fruit ninja convention!
Picture this: a 44-year-old reality star and a 48-year-old blink-182 drummer walk into a delivery room, and boom, they've got a baby on their hands. Sources spilled the beans earlier this month that Kourtney and Travis had officially become members of the Parenthood Club (no secret handshake required).
Drumroll, please… introducing Rocky Thirteen Barker! That's right, not Rocky the First or Rocky the Second, but Rocky Thirteen, because why stop at just one Rocky when you can have a whole baker's dozen of Rockys? The birth certificate, which surfaced faster than a Kardashian rumor, spilled the deets on Rocky's grand entrance into the world. He made his debut on Wednesday, November 1, at Cedars Sinai Medical Center in Los Angeles – probably with a tiny drumstick in hand, ready to rock and roll.
Now, here's the kicker. Months before Rocky's grand entrance, Travis Barker, the man with more tattoos than your grandma has stories, spilled the beans on their baby-naming strategy. They weren't going for the traditional Jack or Bob; oh no, they were setting their sights on something bolder. Rocky Thirteen, to be precise. And who could blame them? I mean, why settle for a name that doesn't sound like it could headline a rock concert?
But hold on, it's not just a party of three (or should we say, trio of Rockys). Baby Rocky is joining the Kardashian-Kiddo-Klub, standing proudly alongside Kourtney's other three mini-mes – Mason, Penelope, and Reign. Meanwhile, in Travis Barker's corner of the world, Rocky is entering a kid-filled arena with step-siblings Landon, Alabama, and stepdaughter Atiana. It's like the Brady Bunch, but with more tattoos and fewer hairbrush-sharing moments.
The birth of Rocky Thirteen Barker, the newest rockstar on the block. We can only hope his first words are something like, "Mom, Dad, let's start a family band!" Because let's face it, with those genes, it's destined to be a chart-topping hit.