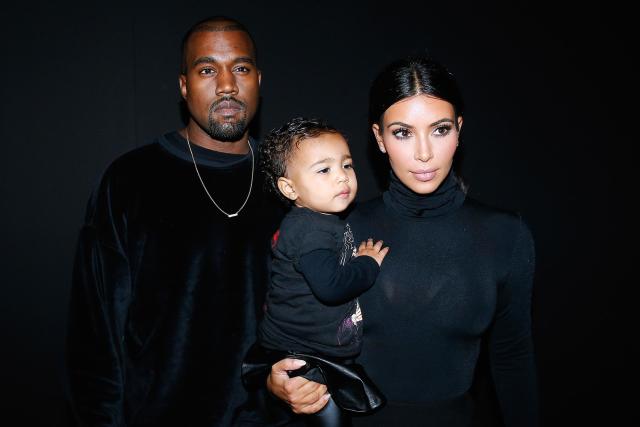 Kim Kardashian is back with more juicy gossip about her co-parenting escapades with Kanye West. In the latest episode of "The Kardashians," Kim, the eternal fountain of wit and wisdom at 43 years young, dished out the deets on how her four little bundles of joy divide their time between her and the rap maestro himself, Kanye, who is apparently 46 going on 4.
Kimmy, in an animated conversation with her partner-in-crime, Kourtney Kardashian, spilled the beans on which parent their eldest, 10-year-old North West, prefers to shack up with. Drumroll, please! It turns out that North has a soft spot for Kanye's bachelor pad over their cozy abode in Hidden Hills, Calif.
With eyes as wide as a kid in a candy store, Kim excitedly recounted North's glowing review of her dear old dad: "She'll be like, 'Dad is the best. He has it all figured out. He doesn't have a nanny, he doesn't have a chef, he doesn't have security. He lives in an apartment!'" Kim exclaimed with a dramatic flair that would make Shakespeare proud.
But the real kicker is North's heart-wrenching lament, "Why don't you have an apartment, Mom? I can't believe we don't have an apartment!" I mean, come on, Kim, what's the hold-up? Get yourself an apartment and save the tears, girl!
Kourtney, always one to chime in with her own tales of parenting woes, chimed in with her "me too" moment. She confessed that her three little rugrats, Mason, Penelope, and Reign, have a similar preference for their daddy, Scott Disick's, swanky pad.
"Kids will be kids," Kourtney sighed. "They do that at Scott's too. 'Dad has the best house, your house sucks. He has the best house. It's not super big, the vibe's better.' I feel like everything falls on the parent that's more involved." Oh, the struggles of a Kardashian co-parenting world, where even the most fabulous homes are put to the test by the discerning tastes of youngsters.
Stay tuned for the next episode of "Keeping Up with the Kiddos"!