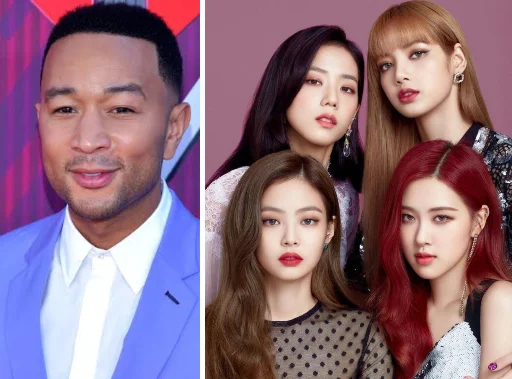 BLACKPINK is about to crash into John Legend's Halloween party like a pop sensation! The singer, who's currently moonlighting as Pfizer's vaccine ambassador, spilled the beans exclusively to PEOPLE about his spooktacular plans.
Legend, a youthful 44, also spilled the beans about his 7-year-old daughter Luna Simone's Halloween costume dreams. "I have a sneaky feeling that Luna might just transform into one of the fabulous BLACKPINK girls," he chuckled. "Fear not, it'll be age-appropriate, though."
The maestro of dad jokes then explained that his kids' costume choices depend on their viewing and listening habits. In this case, it's Luna's admiration for the K-pop girl group that's driving her costume choice. "She's their biggest fan," Legend gushed about BLACKPINK, whose membership includes Jisoo, Jennie, Rosé, and Lisa.
And where did this cute costume inspo come from, you ask? Well, it all started when John Legend and his superstar wife Chrissy Teigen took Luna to a BLACKPINK concert in Los Angeles. They were so impressed that they watched the show and even snapped some pics with the K-pop sensations. Teigen, the queen of social media, couldn't resist sharing the joy with her followers.
"Finally saw @blackpinkofficial and phew I GET IT. That is A SHOW," she captioned a video montage. And in true fan fashion, she had to know everything about the group. "What's the best fan page for me to follow, I need to learn everything there is to know in very little time," she mused.
Now, Legend and Teigen, who are also parents to Miles Theodore, Esti Maxine, and Wren Alexander, are Halloween aficionados. Teigen gave us a sneak peek of their spooky decor, featuring two larger-than-life skeleton zombies. She introduced them as "Frank and Jerry," but her clever son Miles corrected her: "Frank and Perry." Kids, always keeping it real!
In another heartwarming clip, baby Wren Alexander had her Halloween moment, perched atop a pumpkin, and the proud mom, Teigen, showered her with affection. With all these festive vibes, it's clear that Halloween is a family affair for the Legends, who are ready to rock the season with a splash of K-pop flair and a whole lot of Halloween spirit! 🎃👻