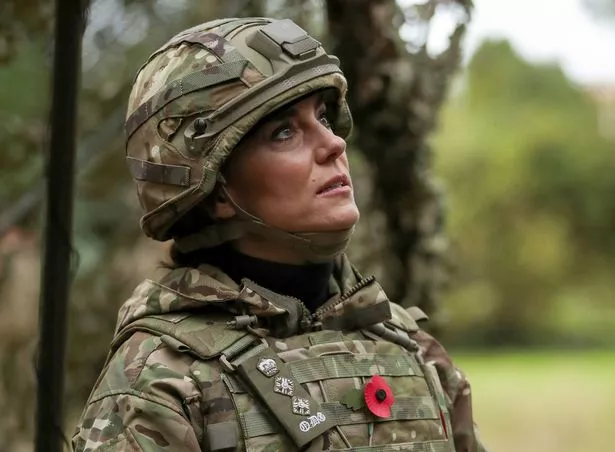 Princess Kate, the reigning queen of style and stealth (move over, James Bond!), decided to spice up her royal routine with a dash of camo chic during her recent escapade to The Queen's Dragoon Guards Regiment in Dereham, England. You read that right—camo couture for the royal highness!
Decked out in the latest camouflage ensemble, Kate Middleton strutted her stuff like a true fashionista-turned-commando during her inaugural visit as the official Colonel in Chief, a title bestowed upon her by the one and only King Charles (not to be confused with the prince who has a penchant for talking to plants) over the sunny season.
Now, you might be wondering, "What on earth does a Colonel in Chief do?" Well, fear not, for Princess Kate took her role very seriously. First up on her royal agenda? Flying a drone like a pro, because why not add "drone pilot" to the list of royal talents?
But that's not all—our adventurous princess also tried out the deluxe seating in one of their armored vehicles. Move over, chauffeur-driven cars, armored rides are the new royal transport trend!
And let's not forget the royal chit-chat. Kate, with her impeccable charm, took the time to have a heart-to-heart with the soldiers at the base. I mean, who wouldn't want fashion advice from a princess in camo, right?
For the full scoop on this royal rendezvous, check Kate in-action below—because when Kate goes commando (in camo), you wouldn't want to miss a single stylish moment!