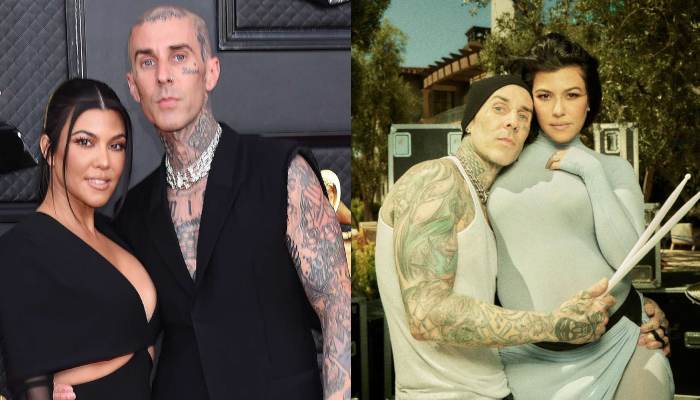 Kourtney Kardashian and Travis Barker have just expanded their little celebrity clan! You won't believe it, but it's true!
So, here's the scoop – on a fine Saturday (November 4), the 44-year-old reality TV superstar and the 47-year-old drumming dynamo from Blink-182 became the proud parents of their very own bundle of joy. According to those ever-watchful "sources" that everyone seems to have these days, it's officially official.
Now, the day before this grand baby-arrival extravaganza, TMZ gave us some inside info. They spilled the beans that Kourtney was given a gentle nudge towards the magical land of motherhood via induction. But the drama didn't stop there! The paparazzi lenses zeroed in on none other than Kylie Jenner herself, who was spotted sauntering into Cedars-Sinai Medical Center in Los Angeles, presumably to visit Kourtney and the new tiny Kardashian-Barker hybrid. Who knew that a Kardashian-Jenner family reunion could be so…hospitable?
But let's rewind a bit, shall we? Back in June, Kourtney decided to spice up the mundane world of celebrity by attending one of Blink-182's concerts. And she didn't just go there for the popcorn and soda! Nope, she strutted in holding a sign that simply screamed, "Travis, I'm Pregnant." Subtlety is clearly not in her vocabulary.
Fast forward a few weeks, and the lovebirds shared the big news that they were expecting a baby boy. No gender reveal party with fireworks or dramatic explosions; they just told us. Sometimes, less really is more.
Now, here's the cherry on top of this amusing baby cake – during a recent interview, Travis Barker revealed that they were planning on naming their baby boy Rocky Thirteen. Well, that's a name that certainly rocks! And I can't help but wonder if they're secretly planning to form a baby boy band with this name. Coming soon to a playgroup near you!
And that's not all! This new baby boy is going to be rubbing shoulders with some already famous siblings. Kourtney's got her three little rock stars – Mason, 13, Penelope, 11, and Reign, 8 – courtesy of her ex, Scott Disick. Meanwhile, Travis has his own trio of awesome kids – Alabama, 17, Landon, 20, and stepdaughter Atiana, 24, from his previous marriage with Shanna Moakler. It's like a ready-made reality TV show right in their own home! Cue the sitcom music.
The latest chapter in the Kardashian-Barker saga – a baby boy named Rocky Thirteen joining the mix of a blended celebrity family. With all these personalities, one can only imagine the future antics of this little rock 'n' roll tyke. Stay tuned for the next episode of "Keeping Up with the Barkdashians."