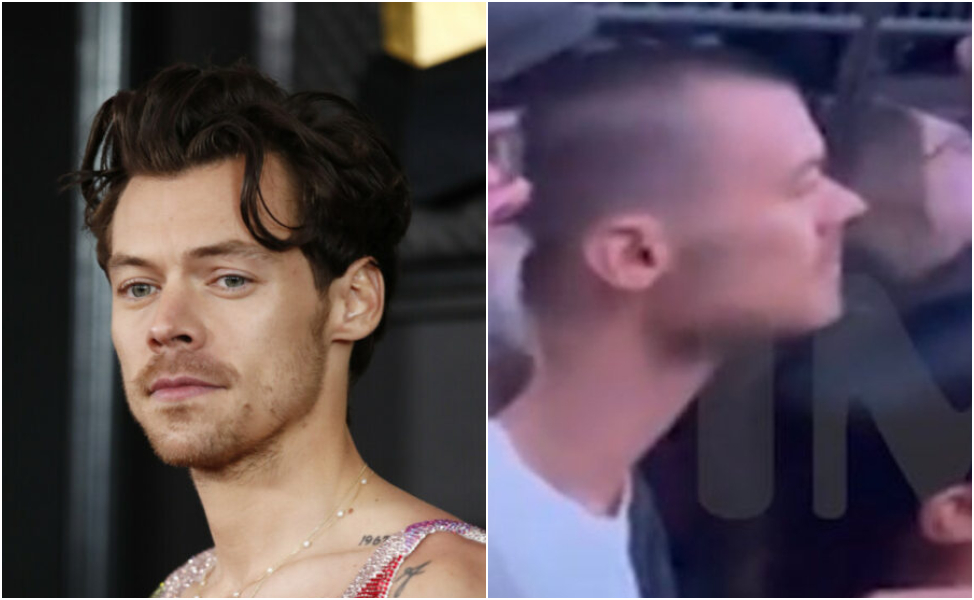 Ever since the world got wind of Harry Styles' audacious decision to part ways with his beloved curls and embrace the shiny pate, his devoted fans have reacted in ways only they could – by creating uproariously entertaining TikTok tributes that'll make you question the meaning of life, the universe, and everything.
In a video that recently landed in the hands of TMZ, we witnessed the glorious spectacle of Harry Styles, now the world's most stylish cue ball, jamming out at a U2 concert alongside his girlfriend Taylor Russell. He's smoothly bald, and he's loving it!
But what's a fandom to do when their idol's luscious locks take an extended leave of absence? The answer is simple: they channel their grief into creating videos that pair Harry's former glory with the dulcet tones of Taylor Swift and Olivia Rodrigo. And let me tell you, it's a sight to behold.
One intrepid fan put together a slideshow showcasing Harry's iconic curls over the years, accompanied by Taylor's "Bigger Than the Whole Sky." They masterfully added "goodbye" to each individual photo and, in a stroke of genius, "whole sky" to a collage of Harry's hair at the end. "Rip hairrry feb 1994-nov 2023," they poignantly captioned the video, complete with the enigmatic hashtags "#baldrry #harrystyles #baldrryconfirmed??." Rest in peace, those golden locks.
Another fan, clearly a Taylor Swift aficionado, spiced things up with "All Too Well" as the soundtrack. They gave us a glimpse of the TMZ video unveiling Harry's shiny noggin before treating us to a montage of Harry's hair in all its cascading glory. The fan's caption was pure poetry: "rip pretty curls 2010-2023." A true eulogy for the ages.
But it doesn't stop there. A third fan, feeling personally betrayed by Harry's hair metamorphosis, opted to do a before-and-after comparison. They even threw in some poignant lyrics from Olivia's tear-inducing ballad "The Grudge" for good measure. "The betrayal," they quipped, summing up the sentiment perfectly.
And let's not forget the oh-so-subtle connection between Harry and Taylor – you know, the one that's only slightly more obvious than a sledgehammer to the face. It's practically written in the stars. So, if you ever find yourself pondering the enigmatic allure of Harry's bald brilliance, just remember that somewhere out there, a fan is curating an epic TikTok tribute, celebrating the hair-raising journey from locks to lack thereof.