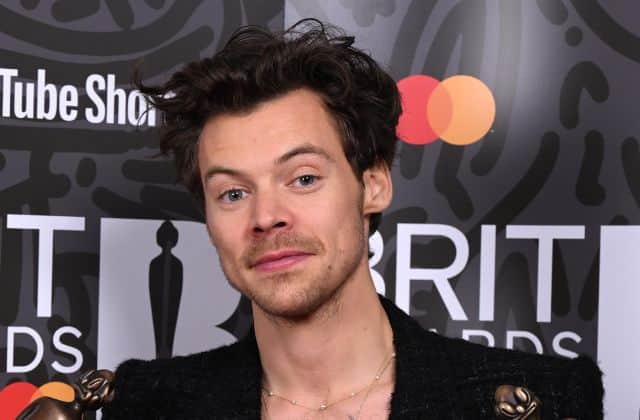 Harry Styles, the man with more hair transformations than a chameleon at a disco party, seems to have undergone yet another hair-mazing makeover!
Our dear 29-year-old trendsetter, Harry, has left fans stunned with his latest hair escapade. It's the buzz around the town (or concert, to be exact) that Styles might have given his hair the shock of its life. And guess what? We've got the top-secret, not-so-top-secret photo evidence to back it up!
Hold onto your wigs, because Harry was spotted at a U2 concert in Las Vegas sporting a look that's shorter than a sitcom episode. No, he's not completely bald (phew!), but it's safe to say that his luscious locks have made a Houdini-esque disappearing act.
DeuxMoi, the celeb gossip oracle, unleashed the photographic evidence upon the world, and now, we're all collectively scratching our heads (or whatever's left of Harry's hair) in bewilderment.
Is this a case of identity crisis or just a sudden urge to feel the breeze on his scalp? The world may never know, but that won't stop Harry's fans from cooking up some hair-larious theories!
Enter the Swifties, who are having a field day by teasing that Harry might have given his mane the snip-snip treatment after hearing Taylor Swift's lyrical zinger from "Now That We Don't Talk" on her 1989 (Taylor's Version) album. "You grew your hair long," she crooned, as if to say, "Harry, darling, that hair has got to go!" Conspiracy theories, anyone?
But the hair-raising saga doesn't end there. Some Harry fans are speculating that he's preparing for his Marvel role as Eros. Apparently, the God of Love decided that shorter hair is more, well, loveable. Who knew that intergalactic matchmaking required a chic makeover?
Now, here's the plot twist: all Marvel productions are on pause, thanks to the SAG-AFTRA strike. So, maybe Harry's hair just decided to take an unscheduled vacation while waiting for its cue to return to the Marvel universe. It's like a hair-raising soap opera, but with more capes and cosmic powers!
Stay tuned for the next episode of "Harry Styles and the Case of the Vanishing Hair."
Taylor Swift wrote "you grew your hair long, i miss the old days, you didn't had to change" and Harry Styles booked a hair appointment pic.twitter.com/GCVFsbAiER

— 𝕄𝕪𝕝𝕒 🏳️‍🌈 (@hswift_) November 7, 2023