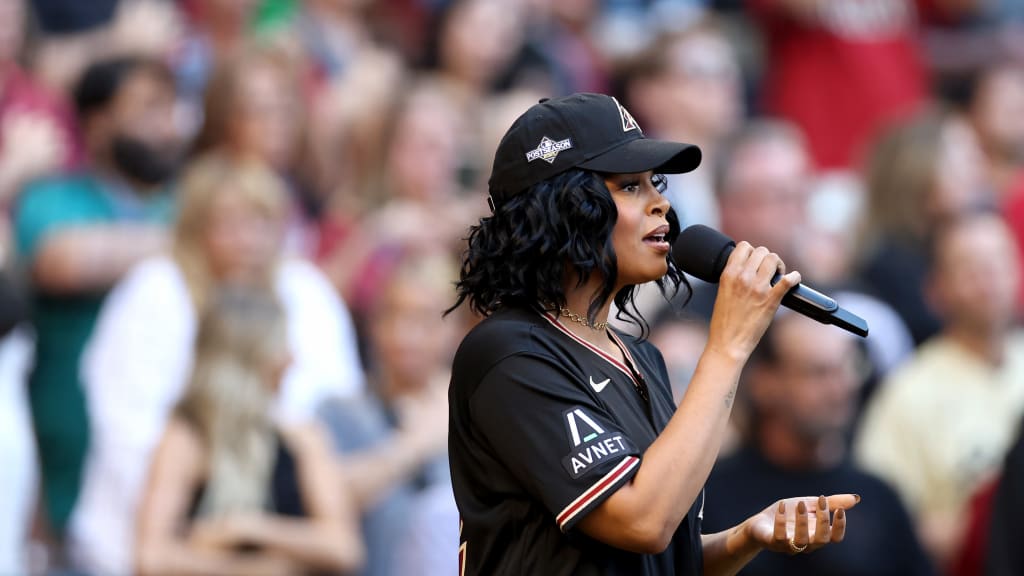 Just a mere 24 hours after Flavor Flav's "interpretation" of the U.S. national anthem left NBA fans scratching their heads and questioning their life choices, MLB fans were treated to a shockingly magnificent rendition of the historic tune courtesy of none other than Jordin Sparks.
The 'American Idol' sensation and all-around superstar, Jordin Sparks, was one of the brave souls tasked with the responsibility of tackling the notoriously challenging anthem for the 2023 World Series. It's almost like they thought, "Hey, we've got a couple of GRAMMY nominees, let's throw 'em into the anthem arena and see what happens!"
But before we get to see the country sensation Mickey Guyton belting out her own high-flying version of the 'Star-Spangled Banner' in Phoenix at Game 4, it was Jordin Sparks who decided to knock our socks off at Game 3. Picture this: the National League Champion Arizona Diamondbacks hosting the American League Champion Texas Rangers in the 119th Fall Classic. The stage was set, the pressure was on, and Jordin Sparks was about to blow everyone away.
And did she ever! The Arizona native didn't just sing the anthem; she turned it into a grand slam of an interpretation. Jaws dropped lower than a baseball in freefall as she belted out those high notes. It was a performance so electrifying that even the umpires forgot about their calls, the players couldn't help but tap their feet to the rhythm, and the hot dog vendors momentarily stopped selling because, well, who wants a hot dog when Jordin Sparks is delivering musical magic?
So, if you missed Jordin Sparks' show-stopping anthem at Game 3, you missed out big time. But don't worry, there's still Mickey Guyton's performance to look forward to in Game 4.