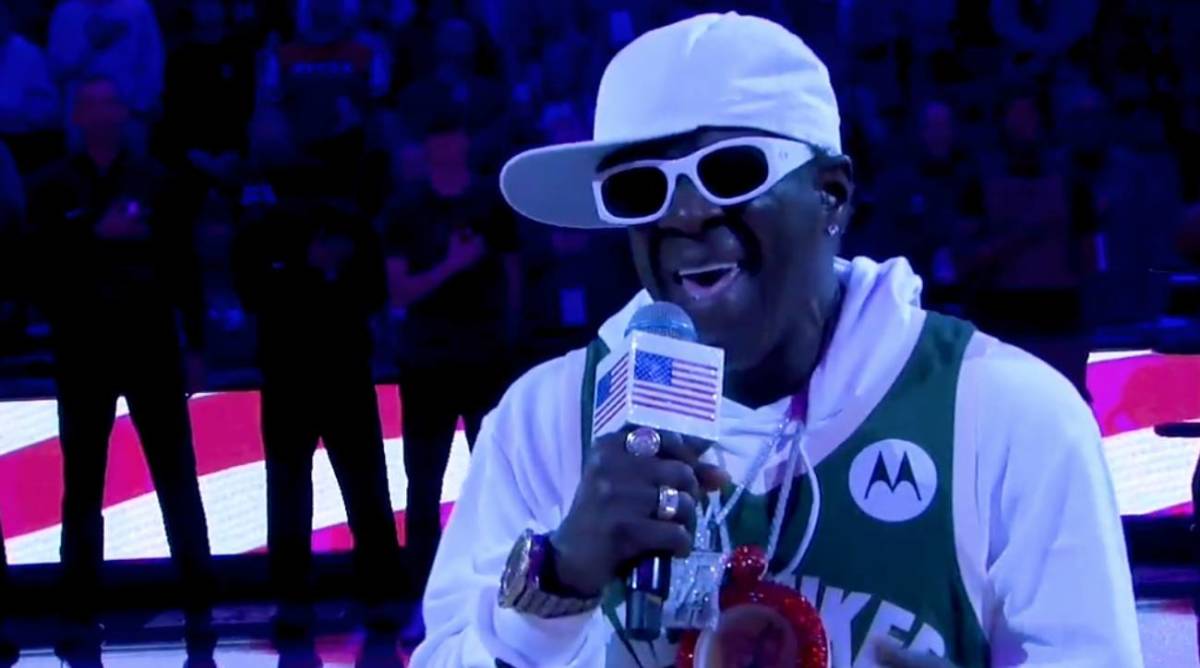 Flavor Flav dropped an unforgettable, mind-boggling, and surprisingly harmonious rendition of the National Anthem, leaving folks everywhere flabbergasted and in stitches!
Picture this: a fine Sunday night (October 29), and there he is, the legendary 64-year-old rapper, Flavor Flav, seizing the limelight right at center court. His mission? To serenade the audience with the US National Anthem before the Atlanta Hawks squared off against the Milwaukee Bucks at the Fiserv Forum Center in Milwaukee, Wisconsin. Move over, Super Bowl halftime shows; Flavor Flav's here to steal the spotlight!
And oh boy, did the Twitterverse explode! Fans couldn't help but unleash their Flavor Flav-fueled fervor.
"Rapper Flavor Flav serenading the Milwaukee Bucks with the U.S. National anthem was a thing of sheer beauty," one fan tweeted. Yes, you read that right – beauty, not bedlam!
Someone else pondered, "Is there a name for Flavor Flav enthusiasts? If there is, count me in!" Who wouldn't want to join the Flavor Flav fan club after such a performance?
And then, there was this gem: "Flavor Flav just turned the National Anthem performance into a must-watch event for Bucks-Hawks. I had no clue I needed this until it unfolded before my very eyes." An epiphany of epic proportions!
Meanwhile, one fan rallied behind Flavor Flav's newfound zest for life, tweeting, "Flavor Flav is living it up, ticking items off his bucket list, embracing unforgettable experiences, and rocking that sober life. We're all aboard the Flavor Flav support train in this household!"
Now, let's not forget the naysayers. For some, Flavor Flav's performance was an acquired taste, or maybe not a taste at all.
"What on earth did I just witness? Flavor Flav's National Anthem performance was downright dreadful," one brave critic exclaimed. Hey, at least it wasn't boring!
And there was the suggestion that the person who picked Flavor Flav to sing should serve some serious time, accompanied by a hearty laugh: 😂.
Lastly, someone expressed their incredulity, writing, "Why in the world is Flavor Flav singing the national anthem? This country has a knack for keeping things seriously unserious 😭😭." Indeed, a question for the ages!
YEAH BOY.

S/O @FlavorFlav for the flavorful anthem! pic.twitter.com/O1UT9sYTZG

— Milwaukee Bucks (@Bucks) October 29, 2023