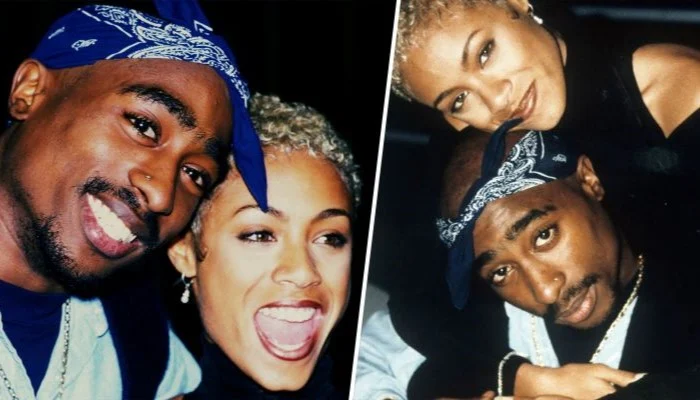 So, there's this new book, right? It's all about Tupac Shakur, the rap legend, and his 'lifelong friend' Jada Pinkett Smith. And guess what? Tupac's mom gave it her stamp of approval before she left the earthly stage in 2016! That's right, even his mom gave it two thumbs up! The book's titled "Tupac Shakur" and was penned by Staci Robinson, with the inside scoop straight from Tupac's sis, Sekyiwa Shakur.
Now, brace yourself for some juicy gossip! You know how you can't shut up your friend when they're gushing about their latest crush? Well, Tupac was no different! His pal John Cole had a front-row seat to the Jada Pinkett Show. According to Sekyiwa, it was Jada this, Jada that, and oh, more Jada! His entire world changed. No more thug life; it was all about Jada. Goodbye magazine posters, hello John's art and Jada's pictures! Tupac was officially smitten.
But hold on, the Jada-Tupac bromance didn't start with the 'Gram or Facebook, folks! No, siree! It kicked off at the Baltimore School for the Arts in Maryland when they were just young and dreamy-eyed. Apparently, Jada was destined to be Tupac's "lifelong friend." Aww, isn't that sweet? You see, Tupac even wrote a lovey-dovey song called "The Omega of My Heart" to show just how much he cared. Picture him serenading Jada: "u will never fully understand / How Deeply my Heart Feels 4 u."
Jada, in her glamorous glory, has declared their friendship a "soulmate friendship." In an interview with Rolling Out, she hinted at a cosmic conspiracy. She's like, "If there is such a thing as past lives, I definitely think that Pac and I have traveled a few together." Wow, talk about a celestial road trip! And in case you're wondering why they never became more than friends, Jada has a theory – God himself had a good laugh and said, "Nah, you guys are a dynamic duo, but let's keep it platonic. No romance for you!"
Now, in a shocking twist, Tupac and Jada were on a bit of a 'break' when he met his untimely demise at the tender age of 25 in 1997. Jada, being the practical friend, was like, "Sorry, Pac, but your thug life is a bit too dangerous for my taste." Ouch! But hey, they remained friends, and this biography tells you all about it. It hit the bookshelves last week, so if you want more of their rollercoaster friendship, you know where to look!