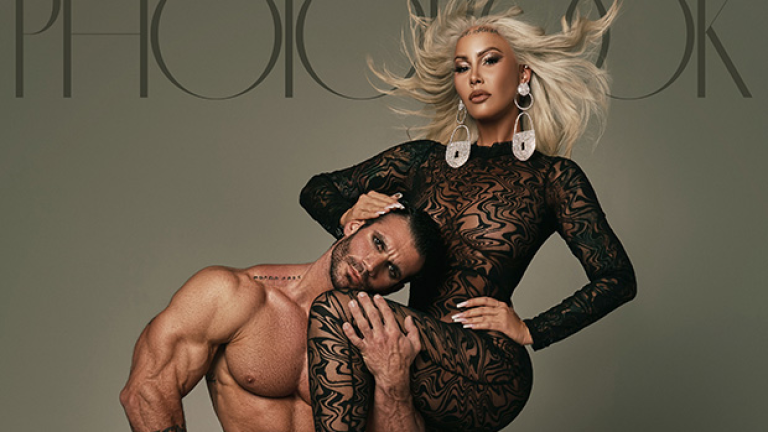 Amber Rose, ageless wonder at 40, brought the sizzle and the giggles to PhotoBook Magazine's latest cover shoot on October 30! The College Hill: Celebrity Edition star donned a saucy sheer jumpsuit that left absolutely nothing to the imagination, causing more jaws to drop than an ill-tempered chef in a crowded kitchen. Amber shared the spotlight with model Julian Arroyuelo, who, if we're being honest, was just a sequin away from going au naturel. The camera wizardry of Mike Ruiz captured these eye-popping moments for all of us to enjoy.
In one of the shots, Amber pulled a bold move by straddling Julian while he flaunted a sultry smokey eyeshadow look. She was looking all glam with Hollywood curls, her forehead tattoo making a statement that screamed, "I'm here to steal your heart, and I brought glitter!" The proud mama-of-two unveiled these cover photos on Instagram, casually remarking, "Check me out on the cover of @photobookmagazine." And boy, did her 24.6 million followers have a field day in the comments section. "Love it, babe!" one fan swooned, while another lost all coherence and simply said, "Whew, now that's a man."
But the hilariously fabulous fashion extravaganza didn't stop at sheer jumpsuits and sultry straddles. Amber also rocked a snazzy metallic green dress that could've made even the Emerald City jealous. She accessorized with silver earrings and eyeshadow shinier than a disco ball on roller skates. Her arm tattoos also made a guest appearance, as the ensemble was all about sleeveless style. In one of these shots, Julian decided to embrace the whole "less is more" philosophy and posed in his birthday suit while Amber nonchalantly rested her arm on his head. Oh, the glamorous life of a model, right?
Mike Ruiz couldn't help but gush about the experience in the comments, "Thanks for such an incredible shoot!!" We can only imagine the laughter, glitter, and glitz that went on behind the scenes.
But it wasn't all about glam and glitz; Amber got real with PhotoBook Magazine. She chatted about her two adorable sons, Slash, the four-year-old dynamo, and Sebastian, the ten-year-old charmer. Motherhood has shifted her perspective, and she's suddenly not as liberal as she used to be. She wants to protect her kiddos from the harsh realities of the world while giving them the wisdom to navigate through it. It's a tough world out there and it's not all about glitter and sequins.
Let's not forget Amber's love life. She welcomed Slash with her ex, Alexander "AE" Edwards, in 2019. AE is now famously dating Cher, who, at 77, is giving all of us dating goals. Meanwhile, her ex-husband, Wiz Khalifa, has been doing his thing, most recently with Aimee Aguilar, according to the Daily Mail. It's a bit like a musical chairs of love!
And last but not least, Amber revealed how she's evolved since her debut book. Contrary to what you might think, it's not just about skin-deep beauty. No, no, her book is a self-help guide to becoming the best version of yourself. It's not about fitting into society's cookie-cutter norms; it's about being comfortable in your own skin, even if that skin happens to be covered in glitter and sequins.