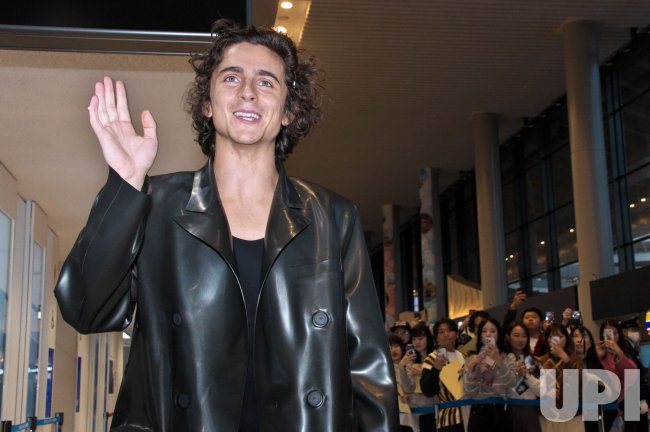 Guess who just touched down in Japan? None other than the dazzling Timothee Chalamet! The 27-year-old heartthrob from Little Women strutted his stuff through Narita International Airport like he owned the place, and let me tell you, it was a sight to behold.
Looking like he just stepped out of a sci-fi blockbuster, our man Timothee decided to rock the Keanu Reeves vibe. Picture this: a 27-year-old Neo from The Matrix, but with a dash of Chalamet charm. He sauntered through the airport in a black latex trenchcoat that probably has its own fan club, teamed up with an all-black ensemble that screamed, "I'm too cool for regular colors," and of course, sunglasses that could rival any Hollywood A-lister's collection.
A fresh trailer for Timothee's upcoming flick, Wonka, just dropped, and brace yourselves – we finally get to hear him sing. Move over, shower singers; Chalamet's bringing his vocal A-game to the big screen. Mark your calendars because Wonka hits theaters on December 15, and it's about to become the hottest ticket in town.
Hold on to your hats (or trenchcoats), because there's more Timothee news! The release of his eagerly anticipated movie, Dune: Part Two, is doing the time warp and getting pushed up. Why, you ask? Well, the SAG-AFTRA strike has ended, and what better way to celebrate than giving the people what they want – more Chalamet on the big screen! Stay tuned for the new release date and prepare for a Chalamet-filled extravaganza.
Oh, and in case you're wondering about the fashion details, because let's face it, we all are – Timothee was strutting his stuff in an Avellano coat, Loewe pants, and Jacques Marie Mage sunglasses. Fashion icon, movie star, and now, the guy who brought trenchcoats back – is there anything Timothee Chalamet can't do?