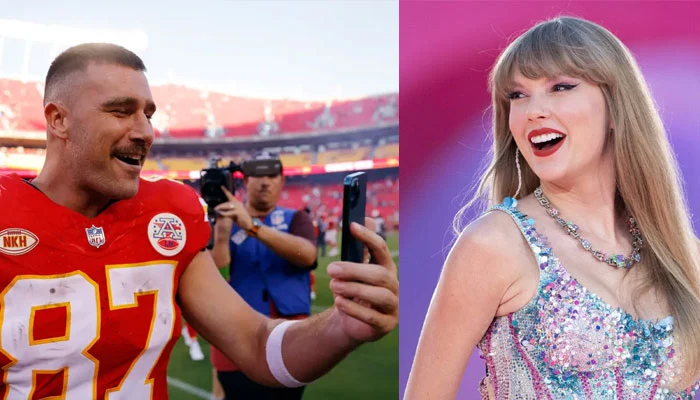 Our beloved 33-year-old pop sensation Taylor Swift took matters into her own hands in the Travis Kelce love story, and she did it with all the finesse of a ninja in stilettos! According to a recent report that probably has Cupid scratching his head, Taylor, the queen of catchy melodies, decided to play matchmaker to her own heart at the ripe old age of 33. Yep, she made the first move! Move over, Rom-Coms, because this tale's got more twists than a pretzel at a yoga class.
So, here's how it went down: NFL superstar Travis Kelce had made a pretty audacious confession—he confessed to attending Taylor's Eras Tour concert in the wild lands of Kansas City, MO, back in July. But here's the kicker: he failed to present her with the universally recognized symbol of eternal love and friendship—a bracelet with his phone number on it. I mean, seriously, Travis, did you even do middle school?
But hold on, this story took a turn for the adorably awkward. When Taylor got wind of Travis's futile attempt at romance, she didn't grab the nearest banjo and start a feud-worthy song. Nope, she found it "adorable." That's right, "adorable." Because in Taylor's world, missing out on your chance to make a move is kinda like tripping over your own shoelaces in front of the entire world; it's endearing.
The plot thickened faster than a Thanksgiving gravy when these star-crossed souls finally crossed paths. Travis, probably practicing his touchdown dance moves, made Taylor a promise that he wasn't just there for a "fling." Can we get a "Woo-hoo!" for Travis's epiphany? A source close to the situation spilled the love beans, claiming that Travis dropped the bombshell: "This isn't going to be a mere fling, Taylor." And voilà, they were off to the races, landing their first date in the city that never sleeps, New York City! Well, we guess Taylor's love life couldn't snooze anymore either.
Now, what's a juicy romantic comedy without the trusty sidekicks? Taylor's squad, those loyal comrades-in-arms, gave their seal of approval and declared Travis "the one." And rumor has it that by the time the New Year's Eve ball drops, we might just have a diamond ring on the radar. Yes, wedding bells might be ringing before you can even finish your leftover pumpkin pie.
Love knows no bounds, and certainly no geographic ones, so Travis is all set to pack his footballs and head to Tennessee to meet Taylor's folks. Scott and Andrea Swift must be polishing their best silverware, getting ready for a future son-in-law who knows how to catch a football as well as he catches Taylor's heart.
Taylor's got a game plan to create some fantastic traditions with Travis. First up, a Thanksgiving dinner to end all Thanksgiving dinners with both of their families. Now that's one recipe for a holiday to remember.
In a twist that makes house hunting more romantic than it sounds, Travis decided to buy a new love nest in Kansas City for a little extra privacy, and guess who had a say in it? Our girl Taylor! They shopped for homes together because, well, love nests should always come with the "Taylor Swift Seal of Approval." Travis loves having Taylor by his side at games and around his city, and together, they're building the perfect love pad.
This romance is smoother than a well-timed key change in a Taylor Swift ballad, and it's getting as serious as Taylor's songwriting skills. Every day is a joyride in this love story, and these two lovebirds are riding it all the way to their "Happily Ever After." Move over, fairy tales, Taylor Swift's got the pen, and she's writing her own epic romance.