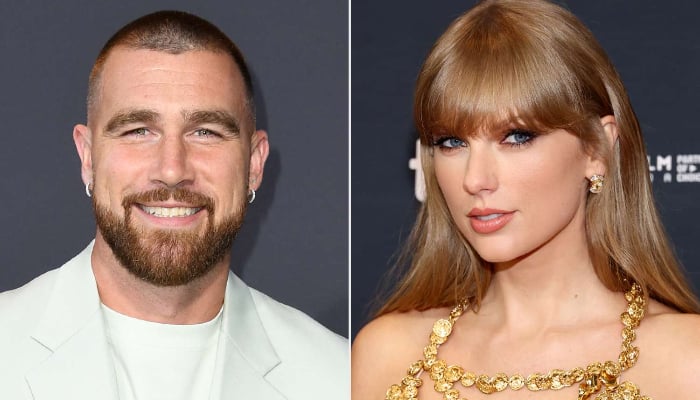 Here's the scoop on Taylor Swift's impromptu dash to Kansas City, MO! The 33-year-old pop sensation was all set to see her beau, Travis Kelce, 34, but she decided to make her grand entrance a day early. Why the hurry, you ask? Well, it turns out Travis and his football buddies, the Kansas City Chiefs, suffered a crushing defeat at the hands of the Denver Broncos. Ouch, that's gotta hurt!
Our sources reveal that Taylor couldn't bear to see her hunky boyfriend in the dumps. After all, he doesn't take losing lightly, and who can blame him? So, what does our girl Taylor do? She pulls a super-speedy swoop-in, arriving in Kansas City a whole day ahead of schedule. That's right, she's on a mission to comfort and cheer up her gridiron guy in any way she can. If that's not love, I don't know what is!
But the story doesn't end there. These two lovebirds are gearing up for a spooktacular Halloween. They're planning to crash a few costume parties with their pals, and who wouldn't want T-Swizzle and her NFL-playing fella at their bash? Even though Taylor didn't make it to Travis' last Chiefs game, she's been their lucky charm at several others in the past month. It seems like their romance is moving faster than Taylor's catchy tunes.
According to our insider, things are getting super serious between the two. They're practically twinning when it comes to their strong work ethic, love for life, and career appreciation. And, you can't forget about those rock-solid family values. It's like they're a match made in celebrity heaven!
But that's not all! Taylor is head over heels for Travis, describing him as "sweet, goofy, and just a blast to be around." The NFL star is so smitten that he bought a new mansion in Kansas City to escape the paparazzi. Apparently, his old place became a tourist attraction as soon as he started dating the "Midnight Rain" crooner. Guess who was there to lend her decorating expertise? Yep, it was Taylor, helping him pick out the perfect digs. Love and interior design, what a combo!
And here's the kicker: Travis confessed to Taylor that this isn't just a fling. Nope, he can actually see himself tying the knot with the pop queen. Wedding bells, anyone? We'll have to wait and see. As Taylor heads out on her Eras Tour, it's uncertain if she'll make it to any more of Travis' games this year. But fear not, because the man himself is reportedly gearing up to be her biggest groupie, following her around the globe during her international shows.
A whirlwind romance filled with touchdown-worthy surprises and love that's sweeter than a Taylor Swift melody. Stay tuned for more chapters in this crazy-in-love celebrity love story!