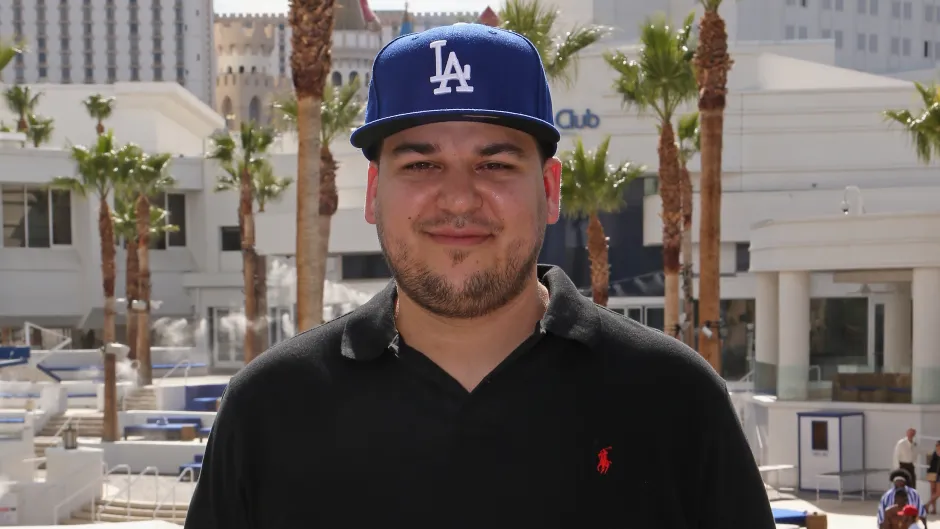 Rob Kardashian, the enigmatic man of mystery, has emerged from the shadows, much to the shock and awe of his adoring fans. This rare sighting occurred at none other than his daughter Dream's 7th birthday bash, and we have the ever-enthusiastic Khloé Kardashian to thank for this visual spectacle!
In a clip that Khloé, the forever 39-year-old, generously shared on her Instagram Stories, Rob, a spry 36, was captured donning a black T-shirt, shorts, and sneakers. But the pièce de résistance was the dark blue baseball cap perched ever so stylishly upon his noggin as he stood gallantly in the backyard. Move over, Dream, we've got a new party MVP in town!
But that's not all, folks! Khloé wasn't content with just one fleeting Rob appearance. She also treated us to a clip of her son, Tatum, joyfully frolicking in a ball pit, with Rob's voice serenading us with the tender words, "Chubby cheeks." We can only imagine the envious glances from the ball pit as Tatum enjoyed Rob's soothing serenades.
Dream's 7th birthday extravaganza was a rollercoaster of epic proportions. With friends and family in tow, the weekend celebrations kicked off in style. The party highlights included Dream's astounding three-tier cake, which probably required an engineering degree to construct, and an all-pink makeup station for her pint-sized pals. These kids were getting glammed up to the nines – we hope they didn't outshine the birthday girl!
The pièce de résistance (yes, another one!) was the pink piñata shaped like the number 7. Dream's guests took their best swings at it, surely leaving an indelible mark on the poor piñata's psyche. Most attendees wore pink outfits to match the party's theme, creating a sea of pink that would make even flamingos jealous.
Khloé Kardashian, known for her close bond with both Rob and Dream, made sure to express her love for all her nieces and nephews, though Dream holds a special place in her heart. She clarified their unique relationship, which had sparked some controversy when she referred to herself as a "third parent" during an episode of her Hulu series. After all, Rob shares Dream with his ex Blac Chyna (real name: Angela White), who's had her fair share of ups and downs with the Kardashian-Jenner clan.
In a separate Instagram Stories note, Khloé set the record straight, emphasizing the love and unity within their tribe. She reminded us that they're all just trying to do their best in life and that the love for their children is the one thing that truly unites this captivating family. Who knew that pink piñatas and family drama could blend together in such a heartwarming and, at times, hilarious story?