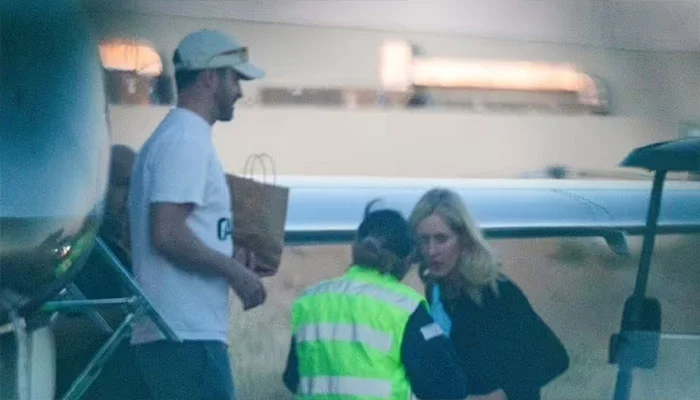 Justin Timberlake, the man who brought sexy back, is in dire need of a breather! The poor guy's trying to dodge the chaos stirred up by his ex-flame Britney Spears and her earth-shattering memoir. I mean, who can blame him? That book is making waves, and not the good kind!
So, what's JT's plan for escaping the madness? Well, he hopped on a private jet like any superstar dad of two would do, and where did it land? Cabo! Because nothing says "I need a break" like a family vacation in paradise. Imagine Justin strutting off the jet, rocking a white t-shirt, jeans, sneakers, and glasses perched on his forehead. It's like he's about to drop the hottest album of 2002, not just heading for a chill vacation.
Paparazzi even caught a heartwarming snapshot of him snuggling with his little son, Phineas, who's a whole 3 years old. Phineas, with his adorable long blonde locks, made it clear that being a mini-Timberlake isn't all that bad. I mean, the kid's got style!
By the way, did you know Justin also has another son, Silas, who's 8? The more, the merrier, right?
Now, these vacation pics came out less than a week after Justin had to slam the comment section shut on his Instagram. Why, you ask? Because Britney's fans were not holding back, and they were hurling some serious shade his way. Britney's book, "The Woman in Me," spilled the tea on their three-year romance, claiming they had an abortion, and oh yeah, they both played the cheating game during their time together. Drama, drama, drama!
A little birdie (well, a source for Page Six) spilled the beans on why Justin turned off the comments. They said it was all thanks to the "hateful, disgusting things people were saying" about Britney's revelations. It's like the comment section turned into a boxing ring, but with words.
And guess what? Justin's lovely wife of 11 years, Jessica Biel, also put the comment section on lockdown after Britney's fans swarmed her account. I mean, it's a family affair, right?
In the midst of all this chaos, our knight in shining armor, Lance Bass, the other NSYNC heartthrob and a mutual friend of Britney, decided to step in. He told TMZ, "Look, everyone has their own opinion. I feel like the world is so full of hate right now, and we need to practice a little forgiveness. Britney did. Let's take a note from her." Oh, Lance, you're always the peacemaker, and we could all use a little more forgiveness in our lives!