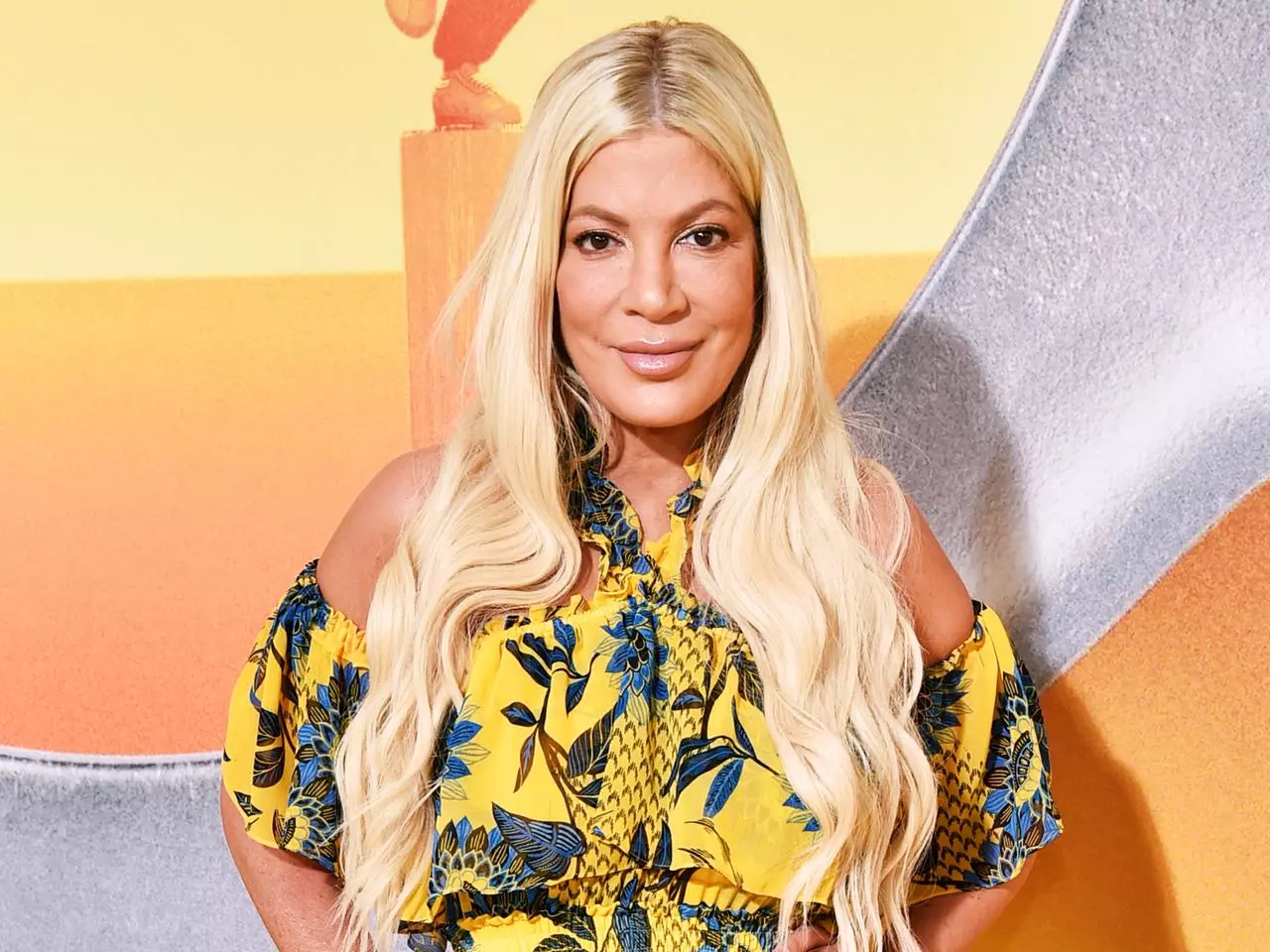 Tori Spelling, the eternal star of Beverly Hills, 90210, has a brand-spankin' new man in her life! The big 5-0 hasn't slowed her down one bit, as she was recently caught red-handed, or should we say, red-lipped, engaging in some smooching shenanigans with none other than Ryan Cramer, the advertising wizard extraordinaire. It all went down during a wild night out in the city of angels, Los Angeles!
In these snapshots that we snagged from the celebrity-sleuthing pros over at The Daily Mail, Tori and Ryan were captured in the act, swapping spit as they made their daring exit from the swanky nightclub known as Level 8. And you won't believe what happened next – they hopped into the same car and zoomed off into the starry LA night together. I mean, what better way to celebrate new love than by sharing an Uber, am I right?
Now, let's dish some deets on Ryan, who's not just some run-of-the-mill suit-wearing CEO. No, sir! This fella is the brainiac behind the curtain at Neuron Syndicate Inc., a Santa Monica-based agency that's probably cooking up ad campaigns for the next generation of AI toasters. But that's not all! Ryan has also worked his creative magic on gaming packaging for the behemoth that is Microsoft, moonlighted as an Art Director at Toyota/Lexus (maybe he designed a car with rocket boosters?), and even lent his artistic genius to TV intros for the Independent Film Channel when he was donning the hat of an art director for iFilm. Phew, this guy is like the Da Vinci of the advertising world!
Now, we can't overlook the juicy tidbit that a super-secret source spilled to People magazine – Tori and Ryan have been an item for a whopping six months! Six months, people! That's like half a year of late-night pizza deliveries and binge-watching romantic comedies. Let's hope they've stocked up on popcorn and tissues.
Just a few weeks back, Tori's ex-hubby Dean McDermott was seen hand-in-hand with a new leading lady, the one and only Lily Calo, during a public outing. If that doesn't scream "Moving on!" in Hollywood, I don't know what does.
Now, let's rewind a bit to Dean and Tori's rollercoaster relationship. Back in June, Dean made quite the dramatic Instagram announcement that they were calling it quits after a staggering 17 years of wedded… well, whatever you'd call it. But hold your horses, because just hours later, Dean pulled a social media disappearing act and a sneaky source whispered that they were "not divorcing." I guess that's what you'd call a plot twist!
As if this love triangle (or quadrangle, who's counting?) weren't intriguing enough, over the summer, Tori raised some eyebrows about her living situation. She and her kiddos were spotted shacking up in a motel room and then living the high life in an RV. It's like they were on a never-ending road trip adventure, just with a little more Hollywood glitz and glam. Maybe Tori was auditioning for a new reality show: "Spelling Out Her New Life on Wheels" – I'd watch that!
[source]