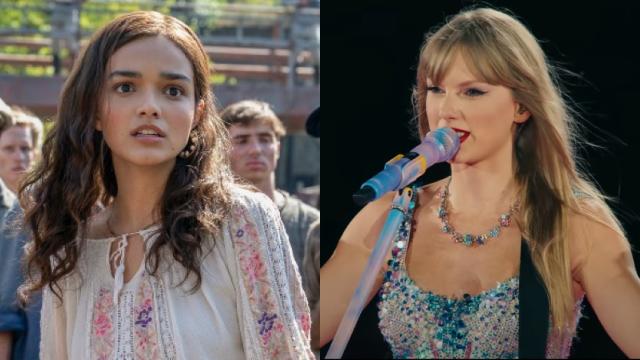 Rachel Zegler spills the beans on her wild night at Taylor Swift's Eras Tour show in New Jersey, and it was a rollercoaster of emotions!
Appearing on The Tonight Show (because where else do you go to spill the tea about your Taylor Swift-induced emotional turmoil?), the Hunger Games star dished about her unforgettable night at MetLife Stadium, and let's just say it involved more drama than a Shakespearean tragedy.
Hold onto your seats, because Rachel revealed that she battled a formidable foe that fateful night: food poisoning. Yes, you read that right. Food poisoning decided to gatecrash the party, but did Rachel let it ruin her Taylor Swift experience? Absolutely not! She rocked that Taylor cardigan with the style of someone who's determined to conquer adversity—or, in this case, an upset stomach.
Jimmy Fallon, ever the master of capturing the perfect moment, flashed a pic of Rachel looking somber at the concert. Rachel, however, couldn't help but burst into laughter at the sight of her own "sad" face. With the resilience of a true Swiftie warrior, she confessed to Jimmy that she would've "sold her kidney" to be there that night. Now, that's dedication!
When Jimmy asked if she was a "back in the day Swiftie," Rachel proudly declared her allegiance, starting from the self-titled album era. And can we talk about the re-record we're all anxiously waiting for? Rachel knows what's up.
She wasn't just a passive audience member; oh no, Rachel was a Swiftie on a mission. She knew the setlist, the callbacks, and she was on high alert for those secret songs. When her bestie predicted a potential "Getaway Car" or "Maroon" crisis, Rachel was ready. Little did she know, Taylor had a plot twist up her sleeve and played both! Cue Rachel's "mental breakdown" in the midst of MetLife Stadium.
And just when you thought the night couldn't get any wilder, Rachel had been joking all evening about Ice Spice making a surprise appearance to perform "Karma." Lo and behold, Taylor Swift must've been eavesdropping on those jokes because it actually happened. Swiftie manifestation level: expert.
Rachel Zegler's night at the Eras Tour show wasn't just a concert; it was a theatrical spectacle featuring food poisoning, kidney-selling dedication, and unexpected Spice Girls cameos. We can only imagine what her Swiftie manifestation has in store next—Reputation (TV), anyone? Stay tuned for the next episode of "Rachel and the Taylor Chronicles."
rachel zegler having a swiftie breakdown on jimmy fallon is EVERYTHING TO ME!!!! 😭😭😭😭😭 pic.twitter.com/hu0TIfUyE2

— naboo coffee ⸆⸉ (@naboocoffee) November 16, 2023