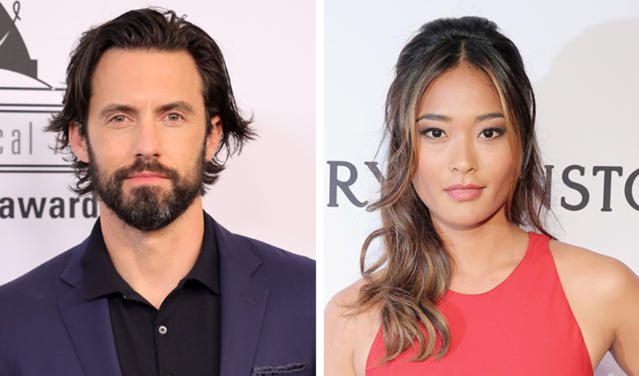 Milo Ventimiglia, the dreamy star of "This Is Us," is officially off the market. That's right, the man who stole hearts as Jack Pearson has found his leading lady, and her name is Jarah Mariano. If you're wondering who the lucky lady is, well, you're in for a treat.
In a move that shocked the paparazzi and delighted their closest friends and family, Milo and Jarah clandestinely tied the knot in a hush-hush wedding ceremony earlier this year. It's so hush-hush that even the wedding cake had to sign a nondisclosure agreement! Who needs the fanfare, right?
The burning question on everyone's mind is when did this love story begin? Well, we might never know. These two lovebirds kept their romance on the down-low, making James Bond look like an open book. If they ever wrote a memoir about their relationship, it'd be titled "Secrets, Smiles, and Smooches."
Now, let's talk about Jarah Mariano, the woman who stole Milo's heart. She's not your average model. This gal hails from the tropical paradise of Hawaii and then traded in her surfboard for skyscrapers when she moved to the Big Apple as a teenager. Talk about a fish out of water! She's the brains behind Hina +ku Hawaii fragrances and the Makalapua Fund, a nonprofit that's all about spreading love to the Hawai'i community. Oh, and she's dabbled in acting too, with roles in "The Audition," "Skyfall," and "Chuck." Is there anything this wonder woman can't do?
As for Milo Ventimiglia, he's got a knack for keeping his personal life under wraps. In an age when celebs can't sneeze without it being front-page news, Milo manages to keep things hush-hush. He's had his fair share of Hollywood romances, from dating his "Gilmore Girls" co-star Alexis Bledel to sparking a flame with "Heroes" co-star Hayden Panettiere. But this guy prefers to stay low-key, saying, "I try to minimize myself so people can see the character and can really dive into the work." In other words, he's the Houdini of Hollywood, disappearing act and all.
Now, you might be wondering what Milo's been up to lately. After tugging at our heartstrings as Jack Pearson, he ventured into the world of sitcoms with "The Company You Keep" on ABC. It aired from February to May 2023, and rumor has it that his character was a con man. Maybe he was perfecting his poker face for all those secret rendezvous with Jarah!
Milo Ventimiglia is a married man, Jarah Mariano is the lucky lady, and their love story is a well-guarded secret. Who says Hollywood romance can't be mysterious?