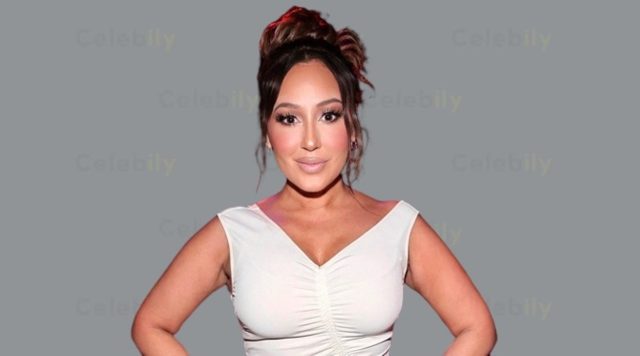 Adrienne Bailon-Houghton is waving farewell to the E! News stage, and trust us, she's not leaving to chase down a scoop on Bigfoot or investigate alien abductions. Nope, this gal's got bigger fish to fry – or, should we say, diapers to change!
In an Instagram post that practically screamed "Mommy Mode Activated," Adrienne, the actor and host of E! News, spilled the beans on her grand exit strategy on October 31. She declared that she's stepping away from the glitzy showbiz world to embark on a new adventure: being a present mom.
You see, this past year has been a wild ride for her family. Picture this: jetting back and forth between New York and LA, being a bi-coastal family, all in the name of showbiz glory. But you know what? She's decided it's time to swap the red carpet for the baby play mat.
In her heartfelt post, she shared, "This past year has been a huge sacrifice for my family, being bi-coastal and traveling weekly as a family between NY & LA, to be a part of the incredible legacy of E! News." In other words, she's been juggling more hats than a circus performer.
She's not just leaving E! News; she's going full-on mom mode and savoring every baby babble and diaper change. In her own words, "I have absolutely loved my E! NEWS family and this experience so much, but I have also really loved the time my baby has been able to spend with my family back east."
As for her co-host Justin Sylvester, she's practically naming him co-parent of the year. She gave a shout-out to Justin, declaring, "The incredible friendship of my co-host, @justinasylvester — you are not just my friend, you are my family." Wow, talk about an emotional handoff! Justin, you're stuck with her forever, buddy.
Adrienne went on to reveal her long history in the industry, saying, "I began working in the industry since I was 15 years old: 'And 25 years later, my next chapter and purpose is loving on my son and being a present mom!'" That's right, folks, she's been in the game since she was a teenager – that's longer than most of us have been in long-term relationships!
And let's not forget, E! News only came back in 2022 after a two-year nap. So, it's been a short but incredibly sweet reunion. But as they say, all good things must come to an end, and Adrienne's embracing this new season of life with open arms.
So, while E! News bids farewell to one of its shining stars, Adrienne Bailon-Houghton is diving headfirst into the glamorous world of diaper changes, nap schedules, and lullabies. Now, who says life isn't a comedy? In her case, it's a hilarious, heartwarming sitcom, and we can't wait to see what funny mom moments she'll share next!