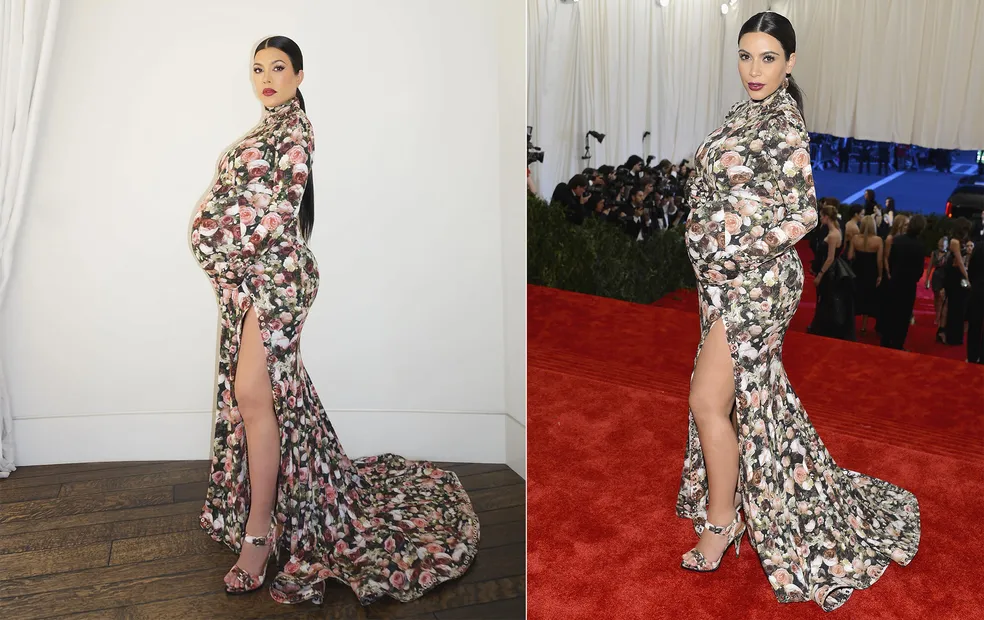 Kourtney Kardashian has decided to channel her inner Kim Kardashian and rock her sister's iconic Met Gala look from 2013! Yep, you heard that right, the 44-year-old reality star slipped into Kim's floral extravaganza of a gown, designed by the fabulous Riccardo Tisci. It's almost like a game of fashion dress-up for the Kardashians, and we are here for it!
Kourtney, ever the fashion daredevil, took to her Instagram on a fine Friday, October 27, to grace us with photos of her striking poses. She stood confidently in front of a plain, white wall while parading around in Kim's dress, and boy, did she slay! I mean, who wouldn't want to try on their sister's clothes, especially when they're as fabulous as Kim's Met Gala numbers?
The caption game was strong, as Kourtney cheekily labeled the series of images, "Freaky Friday." We guess that's one way to describe the uncanny sisterly fashion déjà vu. Who wore it better? Well, that's a question for the ages, isn't it?
Adding a hilarious twist to this tale, Kourtney is currently cooking up baby number four in her oven. Coincidentally, when Kim donned this dress a whole decade ago, she was carrying her first bundle of joy, the illustrious North. So, are they swapping clothes or pregnancy cravings here? It's all getting quite confusing in Kardashian-land.
But hold your chuckles, there's more! In a shocking twist, we find out that back in 2019, Kim was so emotionally invested in this dress choice that she spilled more than a few fashionable tears. Yes, she cried all the way home after being ridiculed! The fashion police must have been working overtime that night. We can't help but picture Kim, in her stunning ensemble, sobbing dramatically, while paparazzi puzzled over whether it was a red carpet or a waterworks show.
But fear not, fellow fashion enthusiasts! Our fearless fashion icon Kim Kardashian had an epic glow-up moment because she now adores the look that once brought her to tears. It's almost like a fairy tale where the dress turns into a pumpkin, and then back into a designer gown!
To add the final sprinkle of hilarity to this fashion fiesta, it turns out that Kim even decided to bring her 2013 Met Gala dress back from the fashion grave for Halloween two years later. We're not sure if it was meant to be a spooky costume or just a clever way to recycle expensive clothing, but we applaud the commitment to looking chic even on the spookiest night of the year.
The Kardashian sisters are not just trendsetters; they're comedians of couture, turning fashion mishaps into laugh-out-loud moments. Who knew a dress could have such a wild journey through the Kardashian realm?