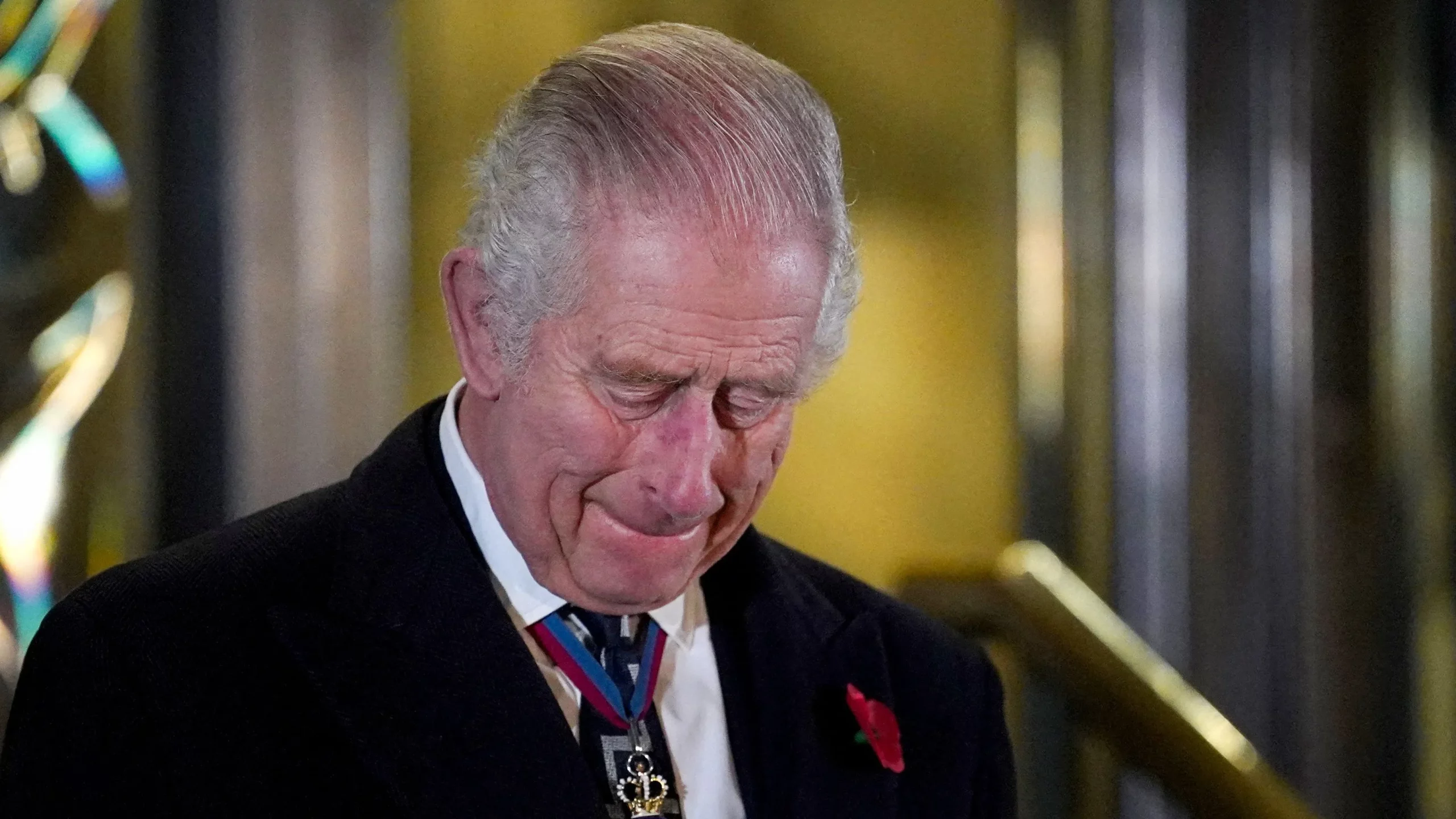 King Chuck III, the King of Emotions, couldn't hold back the waterworks and let the floodgates of tears burst alongside Prince William and the Duchess of Cambridge, Kate Middleton. Their collective sob-fest unfolded as they paid a heartwarming tribute to the dearly departed Queen Elizabeth and the ever-dapper Prince Philip.
This royal drama unfolded at the Royal British Legion Festival of Remembrance, which took place in the majestic Royal Albert Hall in London. The King, who's about to hit the big 7-5 on November 14 (yes, you heard that right, 75 candles on the royal cake), found himself in a puddle of emotions. What triggered the H2Oh-no? The unveiling of statues in memory of his late folks, of course!
A picture, or should we say "a picture of the King in a sea of tissues," captured the moment perfectly. Chuck was seen daintily dabbing at his eyes, as if to say, "Pass me the hankies, my kingdom for a hankie!"
But Chuck wasn't alone in his weepy ordeal. The Prince and Princess of Wales, better known as William and Kate, stood shoulder to shoulder with the King and Queen. It was a royal family gathering to remember, or should we say, "a gathering to remember the Royals." After the statue reveal extravaganza, Charles and Camilla nabbed some prime seats with William and Kate. And who else was in attendance? Prince Edward and Sophie, the Duchess of Edinburgh (who apparently brought her own sob-proof tissues), Princess Anne, Vice (not so sure who Vice is, but they must be important), and a gaggle of other royal kin.
But where in the world was Harry? The wild child of the royal family decided to ditch the British drizzle for sunny America, and so he missed this tear-jerking shindig. Maybe he's allergic to statues.
And just when you thought the tears had dried up, the family came together again on Remembrance Sunday. They gathered for a wreath-laying ceremony at the Cenotaph in the heart of London. They say family that lays wreaths together, stays together.
Kate Middleton, who's not just a Duchess but also a future speech superstar, will be unveiling her grand plans in a speech that will echo through the ages. She'll do this right after she's done celebrating her dear old father-in-law, King Charles. Popcorn at the ready! It's going to be a royally entertaining week.